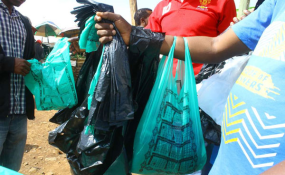 Photo: Benson Momanyi/Daily Nation
By Kennedy Kangethe
Nairobi — The Kenya Association of Manufacturers has petitioned President Uhuru Kenyatta to lift the ban on the use, manufacture, and importation of plastic bags, arguing that it will have dangerous consequences on the economy.
The ban that will take effect in September 2017, was gazetted on February 28, 2017, in a bid to tackle the huge waste in the country that has become a real challenge to the environment.
KAM Chief Executive Phyllis Wakaiga says if the ban takes effect, the country will lose Sh5.2 billion in taxes and affect over 600,000 jobs in a country facing unemployment challenges.
"The latest reports indicate that the unemployment in Kenya remains the highest in the east African region at 39.1 percent. In general, the direct employment created by the plastic and rubber sector is estimated to be over 2.89 percent of Kenya employees," Wakiaga told the president.
Moreover, Wakiaga highlighted that the sector is believed to contribute close to Sh25 billion worth of exports in and out of the region to countries like Sudan, Somalia, Congo, Ethiopia, Central Africa among others.
The plastic sector in Kenya is the second largest plastic packaging developer on the continent.
The manufacturers are of the view that instead of a ban, the country should invest in the adoption of a waste management measure that will, in turn, create more jobs and revenue from processes such as waste collection, waste transportation, waste segregation and waste recycling.
KAM is also proposing to establish a 'Waste Management Board Levy' to be charged on all plastic at source (Point of Entry).
The money collected from the levy should be placed in a specific fund managed as a public private partnership fund by Ministry of Environment, NEMA, private sector and civil society.
"Plastic waste is a valuable resource since it can be recycled at the end of use and also used plastics can be used to produce energy fuel. This has been the reason why most countries such as South Africa, Botswana, and European countries have chosen to address plastic waste management through waste management processes and an imposition of levies to fund the process," she wrote to President Kenyatta.
The total ban on all plastic bags affects manufacturers who produce carrier and flat bags constructed with handles, manufacturers who use bags to package manufactured goods for use in sectors such as food, tea industry, agriculture, fisheries, Livestock, floriculture, horticulture among others.
There are over 176 plastic manufacturing companies in the country which is 3.4 percent of all the manufacturers combined.
The cost value of the sector is estimated at Sh88 billion.
The association estimates that the ban will affect wholesalers and retailers as well as some 400,000 people who benefited directly from them.
Industry experts argue that if the ban is lifted, the government will gain Sh785 million from the waste management levy, a move that will contribute to improving the economy.