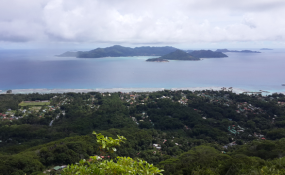 Photo: Seychelles News Agency
press release
The Minister for Tourism, Civil Aviation, Ports and Marine of Seychelles, Mr Maurice Jean Leonard Loustau-Lalanne, paid a courtesy call on the Prime Minister, Minister of Home Affairs, External Communications and National Development Unit and Minister of Finance and Economic Development, Mr Pravind Kumar Jugnauth, this afternoon at the Treasury Building in Port Louis.
In a statement following the courtesy call, Mr Loustau-Lalanne said he congratulated the Prime Minister for the Metro Express project and the investments being made for the purchase of new airplanes. Discussions also pertained to collaboration as regards security and the tourism industry.
Mr Loustau-Lalanne also expressed gratitude for the assistance provided by Mauritius to Seychelles in the field of forensics. He underscored the excellent relations between Mauritius and Seychelles which have evolved into a dynamic partnership over the years.
Mr Maurice Jean Leonard Loustau-Lalanne was appointed Minister for Tourism, Civil Aviation, Ports and Marine on 30 December 2016. He studied Aviation studies in the United Kingdom. After returning to Seychelles in 1981 he was the first appointed Director General of Civil Aviation. In 1983, he joined Air Seychelles as Executive Director of International Operations, and subsequently became its Executive Chairman until 1988.
Mr Loustau-Lalanne has thereafter held the position of Principal Secretary in the Ministry of Tourism and Transport for a period of ten years, followed by five years as Principal Secretary in the Ministry of Environment and two years in the Ministry of Health. He also held the post of Chairman and Chief Executive Officer of the Seychelles Tourism Board.
He occupied the post of Ambassador/Principal Secretary for Foreign Affairs in the Ministry of Foreign Affairs and Transport of the Republic of Seychelles from 2010 to 2016. He was appointed Secretary of State for Health from June,2016 to December 2016.
Mr Loustau-Lalanne is currently the longest serving Director of Air Seychelles Board which he joined in 1983. He witnessed the creation of Air Seychelles in 1982, and actively participated in the development of both the Transport and Tourism industry of the Seychelles.