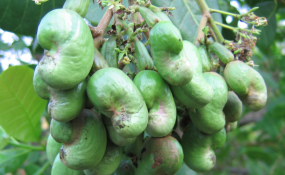 Photo: Vinayaraj/Wikimedia Commons
By The Citizen Reporters News@tz.nationmedia.com
Dar es Salaam — While Mtwara regional authorities have reportedly seized expired Sulphur, used for spraying cashew trees, the Tropical Pesticides Research Institute (TPRI) officers have reported to the Minister of State in the President's Office (Regional Administration and Local Government), Mr George Simbachawene, that government agencies keep interfering with the administration of the said substance.
An impromptu visit by TPRI officials at the Cashew nut Board of Tanzania (CBT) warehouses in Mtwara on Thursday found a consignment of Sulfex Gold and Devisulphur- 80WG substances with containers showing they were manufactured in 2013 and expired in 2015.
The impromptu visit came after Mtwara farmers complained to regional authorities that they had been provided with Sulphur suspected to have expired causing panic and fear among growers that their crops would be damaged instead reaching the government's goal to increase yields in the 2017/18 season. The police, the regional commissioner's office and the state attorney's office were a part in the impromptu visit.
Mtwara regional Police commander Neema Mwanga said they began investigation by communicating with TPRI before storming CBT warehouses. "An investigation team I dispatched at the warehouse discovered presence of Sulfex Gold and Devisulphur- 80WG and most of it had solidified," she said.
TPRI inspector Michael Sanga advised police authorities in the region to apply re-sampling of the substance in order to carry laboratory examinations and establish if it was good for use.
Furthermore, TPRI officials in Arusha told Mr Simbachawene yesterday that they were dissatisfied with the Ministry of Agriculture, Livestock and Fisheries interference that had led to suspension of TPRI three top officials after refusing to approve supply of Sulphur claimed to have expired.
Mr Simbachawene who was visiting Nanenane exhibitions was informed that TPRI executive director Efania Kimaro, registrar of chemicals Elikana Lekei and chief researcher Tano Haghai have been suspended by the Agriculture ministry.
"TPRI's great challenge is interference from other institutions, especially in certifying pesticides that need to be used by farmers in the country," said TPRI officer Jumanne Rajabu.
"It's this interference that has seen our three top officials being suspended after refusing to certify expired Sulphur from being distributed to farmers in the country," he said.
Mr Simbachawene wondered reasons for interference asking TPRI to continue cooperating with the government in empowering farmers in the country.
"How comes you allow interference? I won't go in detail, but I will follow up the issue and ensure the government acts on this matter," he said.
In Dar es Salaam, a CBT official who asked not o be named because he is not authorised to speak said the board was in the process of destroying the said consignment of Sulphur as inherited by the Cashew Industry Development Trust Fund (CIDTF) that taking charges to supply farmers with agricultural inputs.
"Nothing has been distributed to farmers, the said pesticides do not appear in the CBT list of imported agricultural inputs," he said.
Exclusively speaking to The Citizen in Dar es Salaam, CBT's Planning and Processing director Luseshelo Silomba said they didn't know the actual demand of Sulphur in the country, saying they are planning to run census on cashew nut farmers and trees available.
"We've invited companies and consultant firms to submit letters expressing interest of executing the job. After signing contract with the company or consultant firm, the public will be communicated when the job will be completed."