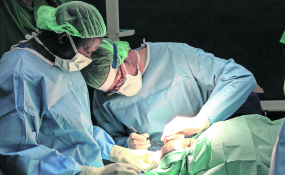 Photo: Adavize Baiye, MSF
By Ojoma Akor
About 80 percent of medical doctors in Nigeria are currently seeking work opportunities abroad, a new survey has revealed.
The study which was conducted by the Nigerian Polling Organisation, NOIPolls, in partnership with the Nigeria Health Watch said the findings cuts across junior, mid and senior doctors in both private medical institutions such as house officers, corps members, medical and senior medical officers, residents, registrars , consultants and medical directors.
Briefing newsmen on the report of the survey yesterday in Abuja, Chief Executive Officer of NOIPolls, Dr Bell Ihua said the reasons for the looming brain drain in the health sector include challenges such as high taxes and deduction from salary, 98 percent, poor salaries and emoluments , 91 percent, and the huge knowledge gap that exists in the medical practice abroad, 47 percent among others.
He said the survey sought to sound an alarm of a looming brain drain in the country's health sector and trigger the much needed reforms to redesign a health system that is responsive to the healthcare needs of the nation.
Ihua said 87 per cent of the doctors surveyed believe that government was not concerned about addressing the challenges facing medical doctors. He said 93 per cent of them seek to go to the United Kingdom, 86 percent to the United States of America, 60 percent to Canada and 59 percent to Saudi Arabia to mention a few.
Commenting on the findings of the survey, Dr Abimbola Olajide, Northern Caucus Leader, National Association of Resident Doctors, Dr Akeem Lawal, a Chemical Pathologist at National Hospital, Abuja, and Dr CJ Achonwa, who represented President Nigeria Medical Association, Prof Mike Ogirima called for better planning for the healthcare system, improved working conditions and enabling environment for professionals, overseas training, private sector investment in health and a centralized placement for horsemanship that is free of corruption and nepotism.
Dr Abimbola Olajide, Northern Caucus Leader, National Association of Resident Doctors, said about 2, 500 doctors have indicated interest to travel out of the country between now and September.