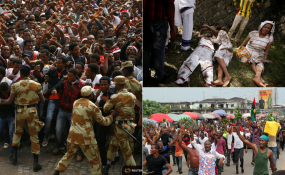 Photo: allafrica.com
By Mahlet Fasil
Addis Abeba — Ethiopian members of parliament who are conducting an emergency session after having being called off summer recess have lifted the ten month old State of Emergency.
A ministerial cabinet meeting chaired by Prime Minister Hailemariam Desalegn has declared a six month State of emergency on Oct. 08/2016. It followed intense weeklong anti-government protests in Oromia regional state triggered as an immediate aftermath of a mass death of civilians at the annual Irreecha festival on Sunday, Oct. 2nd.
However, upon the completion of the first six month, a regular meeting by the House of People's Representative, dominated by the ruling EPRDF, unanimously approved an extension by four more months of the emergency decree with a few changes.
On March 26, an inquiry board tasked to look into the implementation of the SoE told the national parliament that 26, 130 Ethiopians were detained under the SoE. Of these 475 were released after receiving 'counseling', while 4, 996 will be brought to a court. The remaining 20,659 were released after detention in various military camps for different periods of time, according to the inquiry board.
However, the lifting of the decree will change nothing for the more than 5, 000 detainees who were held under the SoE but are currently facing trials charged mostly under violence against the constitution.
Members of parliament are conducting an emergency session after having been called off the summer recess. In addition to their decision to lift the emergency decree, the MPs are expected to approve Prime Minister Hailemariam Desalegn's new picks for two ministerial positions at the Ministry of Federal and Pastoralist Affairs and Ministry of Education, as well as a new head at the national electoral board. The three positions, held by Kassa Teklebirhan, Shiferaw Teklemariam and Prof. Merga Bekana respectively are being replaced because they were among the 12 newly appointed ambassadors for overseas posts.
Unconfirmed reporters indicate that Kebede Chane, Director of Customs and Revenue Authority, will be moved to fill the ministerial position at the Ministry of Federal and Pastoralist Affairs. But it is not clear why this is happening in the midst of controversy over newly introduced presumptive tax rule by the revenue authority that saw small businesses in various parts of the country, including the capital Addis Abeba, shut down their shops in protest. Further unconfirmed reports also indicate that the Members of Parliament will revoke immunity from member/s of parliament and a senior official at the rank of state minister at the ministry of finance and economic development implicated in recent corruption crackdown. AS