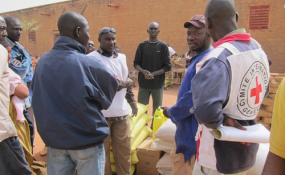 Photo: © ICRC / S. Ismael
analysis
By August 2017, two long-term AQIM hostages, Stephen McGowan (August 2017) and Johan Gustafsson (June 2017), were released. Given that each had been held for six years, the investment AQIM had in keeping them alive and well was so vested, the assumption of either of them being released without a ransom payment seems out of the question. By JASMINE OPPERMAN.
One of the hallmarks of al Qaeda in the Lands of the Islamic Maghreb's (AQIM) operational tactics is kidnapping. This has not changed even after its "rebranding" effort as Jama'a Nusrat ul-Islam wa al-Muslimin (JNIM) -- a "power-house" coalition between AQIM, Ansar Dine, Macina Liberation Front (MLF) and Mourabitounes. It is estimated that the kidnap-for-ransom business in the Sahel region alone has put at least $89-million in the coffers of AQIM since 2003. More than 90% of the group's funding derives from this single financial source. The average ransom for the release of a Western hostage is $6.5-million. Johan Gustafsson was released on 26 June 2017 for a rumoured $5-million while Stephen McGowan's release is said to have been secured by a €3.5-million payment.
AQIM has established specific guidelines for how to treat hostages in emergency situations. If capture is...