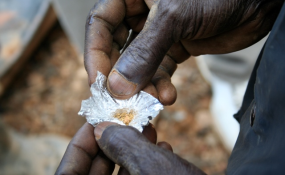 Photo: Daily News
Zvishavane — Five men brutally assaulted a gold panner in a row over gold ore at Sabi Mine in Zvishavane and threw explosives at him after he dived into a dam, a magistrate's court has heard.
Brian Bushe, 21, was killed in April in gold wars that erupted at Sabi Gold Mine.
After the murder, Bushe's parents dumped his body at the home of one of the suspect and refused to bury him demanding 40 herd of cattle.
The deceased was later buried after the suspects had given seven cattle to his parents with negotiations to pay the remaining 33 beats still ongoing.
Four of the suspects, Omega Ziwa, 20, Godknows Sibanda, 22, Munashe Mtetwa, 22 and Alpha Shava, 21 were denied bail except Bothwell Moyo, 30 with Zvishavane magistrate, Shepherd Mnjanja remanding all of them to August 7.
Prosecutors told the court that on April 27 this year, Ziwa, Sibanda, Mtetwa, Shava and Moyo were proceeding to Sabi Gold Mine for illegal mining when they met Bushe, who was in the company of his colleagues.
A misunderstanding arose between the rival groups and the five accused allegedly assaulted Bushe with machetes, stones and sticks all over the body.
Bushe's friends ran away from the scene and he (Bushe) later escaped from his attackers and dived into South Devon Dam.
Court heard that the assailants surrounded the dam and threw explosives at Bush leading to his death.