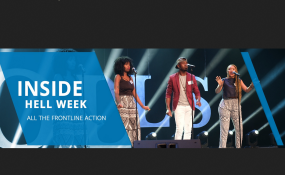 Photo: IdolsSA
The only thing missing from Theatre Week is satan himself stoking the fire. At least that's the story that has been whispered through the corridors of the Idols house and passed down from alumnus to alumnus, season after season. And with good reason.
Idols SA Theatre Week is no joke. The reasons? As varied as a box of colourful rock candy - and decidedly as delicious (depending on what side of the talent pool you have been banished to). Here are a couple of reasons why this stage of the competition is exactly like taking a not-so-leisurely walk through hades in gasoline drawers. Thankfully, for 16 lucky stars-in-waiting, surviving Hell Week is possible and is a feat to be applauded and remembered for all time. Here's to feathers in caps.
No rest for the weary
What is sleep? Who is sleep? Is sleep some kind of condiment you generously throw over your slap chips? Despite the ocean providing a beautiful backdrop via the stunning Wild Coast Sun, sleep at Theatre Week is but a dream. From dusk to dawn, voices echo through hallways, foyers and concealed corners, as nervous, sleep-deprived contestant learn lyrics and perfect melodies. Who wants to misstep when the spotlight finally shines on you during Solo and Group Performances?
Vocal slog
Lack of sleep obviously means putting in hours and hours of serious work, practising for your inevitable close up – and believe us when we say - it is grueling. The Idols SA Theatre Week schedule is like no other and because this is a singing competition, particular attention is always paid to assisting our raw talent learn all they can about how to best utilise the best weapon you could ever have in your arsenal on Idols; their voices. We're talking riffs, runs, breathing, intonation and plenty of extras…forever and a day. Luckily, we have an army of professionals prepped and ready to whip our Golden Ticket holders into shape, at the drop of a hat.
"You need to cut it…"
The cuts at Theatre Week are brutal (and sudden). There is no time to play around during Hell Week. Last season, as soon as our hopefuls arrived, they were herded off into the Theatre for an unexpected audition in front of our judges, which culminated in a sizeable amount of talent being given the chop. Sing off key? It's time to go. Forgot your lyrics? You're out. It's that simple, really. Moral of the story? Stay. Ready.
The tears
Whether it's happy tears, sad tears, angry tears, confused tears or general "I-don't-know-what-the-hell-is-going-on" tears, Hell Week is always waterworks central. Tears or not, it must happen. We must find our Top 16 at the end of it all and our diamonds must sparkle like stars in the night sky on the live stage. Afterall, singing for Mzansi's vote should be worth all the drama and uncertainty that is packaged into this one explosive week.