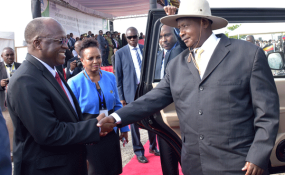 Photo: PPU
By Citizen Reporter
Some ministers may be in trouble after President John Magufuli labels them "wapumbavu" (idiots) over the dillydallying in installing oil flow meters at Dar and Tanga ports.
The President said this, when laying a foundation stone for a project to expand oil bonded ware house for GBP Oil Company from 25,000 to 122,000 tonnes on Sunday.
The President also warned Energy and Water Utilities Regulatory Authority (EWURA) officials, who might be delaying the installation of flow meters.
President Magufuli said despite a directive from the Prime Minister Kassim Majaliwa issued earlier last year no flow meter has been installed in the two ports.