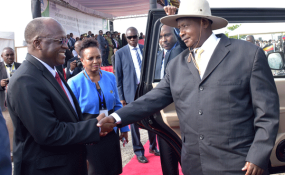 Photo: PPU
By The Citizen Reporter News@tz.nationmedia.com
Tanga — President John Magufuli and his Uganda counterpart, Yoweri Museveni, have arrived at Chongoleani village in Tanga for laying a foundation stone for construction of a crude oil pipeline.
The pipeline will be constructed from Hoima in Uganda where oil has been discovered, to Tanga where it will be shipped abroad for processing.
Apart from the two presidents, other leaders in attendance are Vice President, Ms Samia Suluhu Hassan and Prime Minister, Kassim Majaliwa.
Deputy Speaker, Dr Tulia Ackson, minister for Works, Transportation and Communication, Prof Makame Mbarawa, Land minister, Mr William Lukuvi and Chama Cha Mapinduzi (CCM) secretary general, Mr Abdulrahmani Kinana, are also part of dignitaries who attend the ceremony.
There are also deputy ministers, Regional Commissioners and other regional leaders who attended the event.
After the ceremony in Tanga, the two Presidents are also expected to do the same in Hoima at a later date