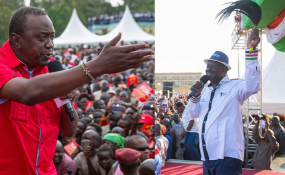 Photo: Capital FM
analysis
By Peter Munaita
Kenyans go to the polls on Tuesday, August 8, to choose their next crop of leaders for various elective posts.
The presidential election is billed as one of the most tightly contested in the country's electoral history, with the most recent opinion polls showing a 1-3 percentage gap between the incumbent Uhuru Kenyatta of the Jubilee Party and Raila Odinga of the National Super Alliance.
While the cost of living, unemployment, corruption, security and free public services are key issues having an impact on the lives of Kenyans, the ultimate winner will be determined by a motley of factors.
The EastAfrican's Peter Munaita lists the top ten.
1. TRIBALISM OR REGIONALISM
Politicians talk of shunning it, at least until an election comes around.
Alliances are primarily informed by it and top leaders in them, principals in Kenya parlance, picked depending on their potential to rally their communities behind the coalition. That includes the choice of running mates too for presidential and gubernatorial positions.
So it is that the Jubilee Party is viewed as a dominion championing the cause of two communities, Kikuyus and Kalenjins, while the National Super Alliance (Nasa) is taken to be rooting for the interests of the Luo, the Kamba and the Luhya.
Predictably, the protagonists deny this and claim to be motivated by a need to unite Kenyans. Practice, however, discounts their word, with candidates in metropolitan areas like Nairobi appealing to tribal sentiment and those in rural areas exploiting the clan factor.
The recognition of Asians as Kenya's 44th tribe recently -- forget their diverse cultural and religious background -- falls under this matrix.
So tribal is Kenya that opinion polls show a polarisation on key issues by region and by dominant community. On matters like worsening cost of living which affects all voters, Central, North Eastern and Rift Valley -- home to the president, leader of government business and deputy president respectively, led in approval of the government.
In contrast, Nyanza, Eastern, Western and Coast -- homes to Nasa presidential candidate Raila Odinga, running mate Kalonzo Musyoka, two principals Musalia Mudavadi and Moses Wetang'ula and Mombasa Governor Ali Hassan Joho -- led in disapproval of the government.
Overall, 85 per cent of Jubilee supporters in a poll by Ipsos approved of the president while 74 per cent of Nasa supporters disapproved of him.
In a poll by Infotrak, five per cent of those who said the country was going in the right direction boldly said it was because "my candidate is in power" while nine per cent blamed tribalism for the country going in the wrong direction.
Asked about tribalism trampling on issues in Kenyan elections during the presidential debate, Mr Odinga referred to the homeboy mentality in the US to explain why Nyanza voters were more likely to support him than Mr Kenyatta, with the vice versa obtaining in Central.
Outside the home areas, however, Mr Odinga said that the support of each would be more inclined to issues. While the homeboy factor holds going by opinion polls, it is unlikely that issues explain why Jubilee is also the most popular party in Eastern, Rift Valley and North Eastern, while Nasa holds more sway in Nairobi, Coast and Western.
Voters identifying with a candidate's issues outside the home region would be expected to be more evenly spread. Of note was a finding in the Ipsos poll that less than a half of respondents (46 per cent) believed any political party "genuinely represents the interests of ordinary Kenyans."
A winning presidential candidate is by law required to garner more than a half of the votes cast (50+1) and win at least a quarter of the votes in 24 of the 47 counties.
All opinion polls show the leading candidates will meet the second condition but the regions present quite a tight race with regard to the first.
2. MONEY AND SOURCES
Running an election is an expensive affair, with regard to logistics and mobilisation of supporters. Upwards of Ksh5 billion ($500 million) has been floated the amount required to run an affective presidential campaign.
It is reported that in 2013, in the choice of Musalia Mudavadi as a fallback candidate should Mr Kenyatta and Mr Ruto be barred from running because of crimes against humanity charges that were facing them, money became a dealbreaker.
"We cannot support you and give you money for the campaigns" is said to have been one of the home truths uttered to Mr Mudavadi's face.
Until recently, elections were won by the candidate who would lobby rivals and their supporters to step down in their favour; something that is still believed to be key in determining which alliance top leaders choose.
The mudslinging between Jubilee and Nasa on the role of businessman Jimi Wanjigi in the current and previous campaigns is understood to revolve around a deal gone sour for the tapping of one principal to shift alliances.
Nowhere is the influence of money more evident than in political rallies where followers are bedecked in party attire, helicopters fly from one venue to another and party mobilisers are compensated for a day's work. Crowds are also hired to participate in rallies and other campaign activities.
With the campaign financing regulations in limbo and funding of political parties by the State inadequate, resources are mobilised through fundraisers where a dinner plate goes for more than $10,000.
Business leaders especially the unscrupulous type look forward to funding campaigns, usually donating to the leading contenders, as a way of getting public tenders and perpetuating corruption in procurement.
Were money the sole determinant, and going by protests from the opposition, the incumbent would be preparing for the swearing in ceremony.
3. INCUMBENCY
Closely related to the second, incumbency presents a unique resource. The sitting candidate, unlike the challenger, has the State apparatus — personnel (both civil and disciplined), institutions including the intelligence service and logistics — that cost quite a fortune to mobilise.
Public servants for purposes of self-preservation will also donate generously to the cause of the incumbent as was seen during a recent fundraising. This factor has proven a hindrance to many a challenger of a sitting president in Africa.
Rarely mentioned directly, it manifests itself in claims of rigging that start long before the election date.
Cheating could be abetted at any stage of the electoral process, starting with the registration of persons and voters, lopsided voter registration, uneven distribution of election materials and the extreme ballot stuffing.
The opposition has been very keen to get the electoral processes right, mostly through court cases, because they create a semblance of a level playing field. A network afforded by incumbency would be difficult for an opposition to marshal except with the goodwill of supporters in its strongholds.
The incumbency factor is showing itself daily as President Kenyatta flies across the country attending up to a dozen rallies in a day, promising multibillion dollar projects. Mr Odinga, in contrast, can muster at most five rallies, picking holes in choice and fulfilment of government promises and explaining what he would do differently.
In an electorate swayed by free things, incumbency sells. Although only seven per cent of respondents in the Ipsos poll released last week mentioned the incumbent's use of state resources as a hindrance to free and fair elections, no incumbent has lost an election in Kenya.
Although Mr Odinga, as prime minister, could be regarded as an incumbent in 2013, he did not enjoy the backing of President Mwai Kibaki after their toxic leadership of the coalition government.
Like elsewhere in the world where term limits are in place opposition parties tend to win during a transition. Ghana and Nigeria have recently bucked that trend, the first after a comprehensive adoption of technology in electoral processes that ushered in President Nana Akufo Ado in January this year.
In the second case infighting within President Goodluck Jonathan's party and corruption allowed Gen Muhammadu Buhari to defeat him at their second faceoff in February 2015. Whether the incumbency will play a key role in Kenya remains to be seen.
4. 2022 POLITICS
It is curious that all opposition leaders have been saying in political rallies that they have no problem with President Kenyatta but his deputy William Ruto.
This could be easily explained by perceptions on Mr Ruto's integrity and abrasive style of politics.
Away from Mr Ruto's personality, he is already declared as Jubilee's candidate for the presidency in 2022 if President Kenyatta wins a second term in office. The man within a heartbeat of the presidency is also the man to beat.
Mr Musyoka is another who would be assured of a second bid for State House (he ran in 2007) but the coalition agreement Nasa principals signed opens the door for others to run for office.
Asked after the agreement was signed whether he would be a one term president, Mr Odinga said the Nasa agreement filed with the registrar of political parties only covered five years which practically end before the 2022 elections. Besides the Nasa principals, governors Alfred Mutua, Hassan Joho and Peter Munya and senator Gideon Moi have declared interest in the 2022 race.
A host of other politicians including Peter Kenneth, Mwangi Kiunjuri, William Kabogo and Kithure Kindiki have been mentioned in the 2022 frame.
Proxy contests have emerged for other seats pitting surrogates of the 2022 hopefuls and are partly behind the huge number of independent candidates running for governorship and legislative positions.
Mr Kenneth and Mr Kabogo (Kiambu) have publicly said they lost out in the Jubilee primaries at the behest of Mr Ruto because he feared they would complicate his chances of succeeding President Kenyatta in 2022.
Anticipated political rivalries influencing present politics is not unusual in Kenya and have been used to derail careers of politicians — Jaramogi Oginga Odinga in the 1960s and former presidents Daniel arap Moi and Mwai Kibaki in the mid-1970s and late-1980s, respectively — with contrasting degrees of success.
This factor has seen Mr Ruto and Mr Musyoka work overtime to cultivate following outside the strongholds of the presidential candidates they back.
The nearest parallel of politicians other than the president working so hard in a campaign was in 2002 when Mr Odinga led Narc luminaries to campaign for then indisposed contender Mwai Kibaki.
The Ipsos opinion poll shows that 63 per cent of respondents had at least some confidence in Mr Musyoka against 56 per cent who felt the same about Mr Ruto.
The poll also showed significant shifts in Coast, Eastern, Nairobi, Rift Valley and Western compared with the 2013 voting trend, which together with localised proxy wars, could sway the contest.
5. CAMPAIGN STRATEGY
The Jubilee campaign strategy is quite basic — continuity, while that of Nasa is a call for reforms as envisaged in the 2010 Constitution to take more resources to the people (devolution) and enhance governance. Those pillars explain why President Kenyatta is focused on promises fulfilled, work in progress and more promises.
Musician Ben Githae's political mobilisation song Tano Tena (another five years) captures the continuity theme. Nasa on the other hand has been resolute in pushing for electoral reforms, preventing rigging and promising better utilisation and distribution of state resources.
Along the way it has exploited opportunities, such as incidents of insecurity, corruption and rising cost of living, to send its message of official incompetence home.
Jubilee has had a rougher road selling its development record than it would have expected, largely because of missed targets especially in the food, employment and digital education sectors, as well as corruption tags on some of the projects.
Despite its campaign theme song Mambo Yabadilika (Kiswahili for things are changing) by gospel musician Hellena Ken, Nasa has been careful with its message of change for two reasons.
For one, its principals have all served in senior government positions in the past and their association with change has been made fun of in rival rallies.
That message, however, is made credible by Mr Odinga who has come to embody the fight against excesses in successive regimes in Kenya, notably when he was Prime Minister in the Coalition government.
Secondly, a bold call for change has become the sacrificial lamb for peace since the 2007 post-election violence and, with the electorate seemingly still traumatised, such an approach is viewed as a recipe for chaos.
Churches and lobby groups, the most notable led by Rachel Ruto, wife of the Deputy President, are going around the country preaching peace and praying for unity during the electioneering period. These two factors and Jubilees failures have yielded a campaign quite low on issues and big on drama.
In the Ipsos poll released last month, more than a fifth (22 per cent) of registered voters who said they would not be casting their ballots gave no reason for their decision or just said there were no desirable candidates. Overall, one in every 50 people (about 392,000 of the 19.61 million registered voters) said they would not vote.
The voting intentions were strongest in Nyanza (95 per cent), Central (93 per cent), Rift Valley (92 per cent), Coast and Nairobi (both 90 per cent).
They dipped to 85 per cent in Western, 78 per cent in Eastern and 76 per cent in North Eastern. By party loyalties 98 per cent Jubilee supporters said they were certain or likely to vote against 97 per cent for Nasa, making for quite a tight call.
6. PERSONALITY AND CHARACTER
Alluded to in the 2022 factor, the personalities of the two contestants will have some influence on the poll outcome.
Both are children of privilege, scions of the political dynasties that have shaped Kenyan politics since the fight for independence, and have been entrusted with leadership by their communities.
Their fathers, founding president Jomo Kenyatta and vice president Jaramogi Oginga Odinga, fought many ideological battles culminating in the isolation of the latter, detention even, until the onset of multiparty democracy in the early 1990s. Similar tribulations befell Mr Odinga who was a prominent face of the fight for multipartyism.
Such history can cut both ways and the two have on several occasions been forced to deny claims of polarising the country to fight their long-standing family feud.
Away from the public eye, the two are said to be good friends who exchange family visits and stand by each other in times of distress.
But their personalities are quite different. Besides the age difference between them, Mr Kenyatta comes out as an easy-going person who is at home with both the mighty and the down-trodden while Mr Odinga appears as a more reserved personality who warms up to people as they get along.
On the dais, Mr Odinga is unlikely to dance too enthusiastically to music; only betraying his deep feelings with facial and hand gestures. His lighter side comes out when he uses football as an analogy for politics and is a master of asides.
This is the personality of Mr Odinga that came out during the presidential debate when he defended President Kenyatta on allegations that the two of them were holding the country to ransom. He would have attacked the president who snubbed the debate but chose to remain a gentleman.
President Kenyatta lets his emotions show, elated one moment and quite cross the other, when he is not averse to expletives. Mr Odinga also defended the language the two leaders use in political rallies, especially when describing their rivals saying they were just figures of speech to send messages home rather than attacks on personalities.
Will these personalities influence the election outcome? Maybe the perceptions around them with regard to who would be more decisive in confronting the bread and butter issues facing Kenya.
The Ipsos Poll showed that 70 per cent of the respondents had a measure of confidence in President Kenyatta against 64 per cent for Mr Odinga.
When it came to leadership, 17 per cent of those who believed the country was going in the right direction attributed it to leadership.
In contrast 12 per cent of those who were not happy with the country's direction blamed it on his leadership. Overall, respondents wanted a decisive president as more than half of those for or against the incumbent indicated leadership was the key factor in determining the country's progress.
7. VOTER TURNOUT
Over the past week there has been more focus on urging electors to turn out in full force on August 8.
This is informed by fears of voter apathy witnessed from the time of registration when the Independent and Electoral Boundaries Commission (IEBC) missed its registration target of six million new voters, managing less than four million. Politicians are already coming up with hilarious ways to ensure high voter turnout.
Mr Odinga has asked his followers to avoid sex on the eve, mobilisers in central Kenya want to have bars closed a day to the polls, while in Nairobi some have suggested public transporters bar voters from leaving where they are registered.
The stakes have risen higher because Infotrak and Ipsos opinion polls show the election will be won in the first round by the candidate who manages to convince the undecided and to sway the rival's supporters. The Ipsos poll shows that five per cent of the respondents were undecided on who they would vote for.
This rises to seven per cent when those who refused to answer are taken into account. It is the regional distribution of these "undecideds" and those who will not vote that should be the focus of the leading presidential candidates.
Western leads with 15 per cent followed by eight per cent in Coast, seven per cent in Eastern, six per cent in Nyanza and Rift Valley and five per cent in Nairobi.
Only one per cent of respondents in Central and North Eastern fell in the two categories. Those who said they would not vote gave reasons like being away from polling station (24 per cent), fear of violence and victimisation (17 per cent), no confidence in IEBC and the electoral process (13 per cent), no desirable candidates (six per cent) and long queues (5 per cent).
It is arguable whether there are still any undecided voters or it is a case of people being guarded especially for those holding choices that run against the grain in their regions.
Voter turnout has grown progressively since the 2002 election to reach 70 per cent in the 2010 referendum and 86 per cent in the 2013 election.
In favour of a huge turnout is the fact that more than 90 per cent of the voters were in close proximity to their polling stations and the drop in the number of undecided to below five per cent in the latest polls.
8. DEMOGRAPHICS
The profile of the voter who turns up at the polling station is also important.
IEBC data shows that the youth (18-34 years) comprise 50.64 per cent, men 53 per cent and women 47 per cent.
A candidate's appeal to the youth who surveys show are more inclined to vote based on issues rather than ethnicity could give an advantage.
That the youth are coming out to express themselves on the ballot is evident in the increased number of contestants falling in this bracket who have been nominated by various political parties to vie for elective positions or are running as independents.
In Nairobi, for instance, a generational change has happened with most of those running for Parliament being below the age of 40.
A Radio Africa survey released last week showed that Nasa candidate Raila Odinga had recovered substantially in the competition for the youth vote with 47 per cent for those aged below 29 years supporting him against President Kenyatta's 45 per cent.
In the Radio Africa poll released in May, President Kenyatta had 47 per cent of the youth vote against Mr Odinga's 40 per cent.
However, it showed President Kenyatta winning by more than 50 per cent among the elderly population and women with more men opting for Mr Odinga.
Women present an interesting group given the grassroot campaign that the First Lady Margaret Kenyatta and Mrs Ruto, have been running across the country riding on their programmes on maternal health and table banking.
Mr Odinga's wife Ida has also been present on the ground. Besides the spouses, the leaders have several lobby groups mobilising the various voter segments.
9. IEBC
While a referee may not necessarily score a goal, faith in the arbiter can determine the participation and performance of a player, a team or fans.
This explains the 13 per cent who said they would not vote because of lack of confidence in the IEBC and electoral processes in the Ipsos poll of mid-July. In the latest poll, however, confidence in the IEBC to manage the elections has shot up from 50 per cent in January to 61 per cent.
With regard to respondents who said they had at least some confidence in institutions involved in the election, the IEBC is at the top with 85 per cent followed by the Judiciary (82 per cent) and the police (81 per cent).
This bodes well not just for voter turnout but also in its wake should the outcome trigger unrest or a petition in the courts.
More than eight in 10 people in the poll said that they were not aware of anything that would make the election not free and fair.
However, those who had reported breaches cited vote buying and gifts, buying of ID cards and threats and intimidation among the practices that could compromise poll integrity.
They also said bungled political party primaries as well as discrimination during registration may have already tilted the scales in favour of some candidates.
Lack of transparency at IEBC and malfunction of technology were mentioned by four per cent of those who had concerns on poll issues as potential violations of free and fair election practice.
10. SECURITY AND ELECTION-RELATED VIOLENCE
A claim by Nasa presidential candidate Mr Odinga that the military was to be involved in rigging the elections outcome stoked controversy, with some feeling he had gone too far in his politicking.
The government and the military have denied this saying the military must prepare to complement the police force in case of violence in about half of the 47 counties that have been declared as hotspots.
Mr Odinga's worry has been that heavy security presence could discourage voters, a concern backed by two per cent of those who feared the polls might not be free and fair.
Across the country, however, 10 per cent of respondents said there was likely to be political violence in their area.
The presidential election was the most likely to trigger violence in Nairobi, Nyanza and Western while local elections could cause unrest in Rift Valley, Eastern and Nyanza.
Outside ordinary crime, political rivals, police, extremists, other communities and vigilante groups were seen as the main threats to security during the election period.