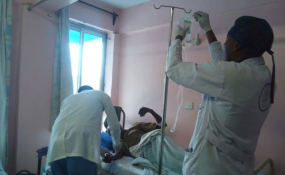 Photo: Lillian Mutavi/Daily Nation
By Verah Okeyo
Kenya is not prepared to handle a pandemic, a World Bank report has revealed, citing failure to take the necessary steps to withstand an attack as the key reason.
The report said that Kenya has not gone through two external evaluations in its readiness to face pandemics.
The diseases in question would be those that affect humans only such as cholera or those from animals to human beings -- zoonoses -- such as Ebola and avian flu.
INFECTIONS
The World Health Organization says that 60 per cent of the pathogens that cause infectious diseases in human beings come from animals.
According to the US Centres for Disease Control and Prevention, zoonoses include a wide range of diseases -- from mass killers such as anthrax, Ebola, swine flu, West Nile Virus, bird flu, Crimean-Congo haemorrhagic fever and the Hendra Virus -- to subtle and slow killers such rabies, Rift Valley Fever and brucellosis.
These diseases have wreaked havoc even in stable economies such as China.
EVALUATE
Should Kenya experience bird flu or viral pneumonia that affected china, the country could lose USD 1.3 billion a year and about Sh3,000 per person, according to the report's estimates.
Titled From Panic and Neglect to Investing in Health Security, the report was prepared by the World Bank, the International Monetary Fund, the African and Asian development banks, as well as finance experts from all over the world.
Only Finland, Saudi Arabia and the US as well as Eritrea and Pakistan have undergone the evaluations.
EMERGENCY FUNDS
Kenya's neighbour, Tanzania, has undertaken the steps and even made provisions for how they would find the money to rectify their weaknesses.
The report calls for creation of emergency funds to fight disease outbreaks.
Kenya only has a national plan that is not costed.
The report comes after a series of cholera outbreaks that have been reported from December 2014.
HEALTH SECTOR
Prof Lukoye Atwoli, the dean of the Moi University School of Medicine, agreed with the report and told Nation: "We are not really ready to handle most epidemics because of a fragmented health system without clear lines of responsibility."
There has not been a mechanism to quantify the losses that infectious diseases cause in the country yet, but stable economies have also been taken a few steps back because of diseases.
For example, the report estimated, the viral pneumonia, Sars, killed only 774 people in China but shrank its GDP by 0.5 per cent in 2003.