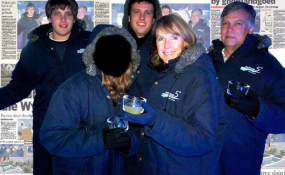 Photo: Facebook
The trial of alleged triple murderer Henri van Breda is expected to continue in the Western Cape High Court on Monday. Van Breda, 22, pleaded not guilty to axing his parents and brother to death, seriously injuring his sister Marli and defeating the ends of justice.He claimed that an intruder wearing a balaclava, gloves and dark clothes was behind the attack, and that he had heard other voices of people speaking Afrikaans in their home in the De Zalze Estate in Stellenbosch in January 2015.
Van Breda claimed that, after a fight with the axe-wielding intruder, the man had escaped.
At his last appearance on June 13, Van Breda's lawyer Matthys Combrink said the only person who confirmed they recognised the axe used in the gruesome attack was the family's domestic worker, Precious Munyongani.Munyongani testified in May that the axe was the same one that had been in the Van Breda house, recalling that it had usually been stored on a shelf in the scullery, where she went to fetch the ironing board.
Combrink said that Marli van Breda's ex-boyfriend James Reade-Jahn remembered a black axe.
An incredulous Judge Siraj Desai asked Combrink if he thought there was a second axe involved. Combrink responded that he didn't know.
"There was possibly more than one axe," he said.
Captain Candice Brown, from the police's forensic section, said she didn't know the condition of the axe before the incident.
Her examination, following the attack, found that the damage included a nick on the blade's edge, scrapings off the green paint on the axe head, and chip marks at the rear pole area, the blunt side.
News24