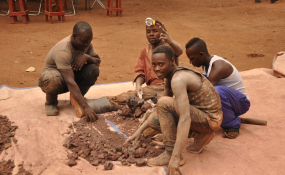 Photo: Oil in Uganda
By Josephine Nnabbaale
Mubende — At least 2,000 artisanal gold miners were last evening still stranded at mining sites in Kitumbi in Bukuya Sub-county, Mubende District following their eviction at the weekend by police and army.
Daily Monitor understands that many of those that have remained at the mines are Rwandans and Congolese.
"We are currently barred from commenting about the ongoing evictions because it is now a security matter, but it is true some people are still stranded, especially those from far areas. Some claim they lack transport to go back home," Mr Sulaiman Tanula, the Bukuya Sub-county chairman, said yesterday.
Last Friday, security forces commanded by Col Joseph Balikuddembe, the UPDF 1st Division commander, descended on and ordered the gold miners to leave within two hours.
Those from neigbouring districts such as Mityana, Sembabule and Wakiso swiftly packed their belongings and departed. Others stared in disbelief and confusion as armed police and soldiers charged on them and hollered orders.
Energy and Mineral Development ministry officials said the miners were making money without paying taxes and, as such, deprived the government of revenue.
Mubende District has seven gold mines in Kitumbi and Bukuya sub-counties that have witnessed emergence of small townships populated by labourers and traders seeking to eke out a living at the mines and from auxiliary businesses.
Lujinji mining site, for example, was estimated to have more than 10,000 people. The gold mines are operated by artisanal miners, who extract sand, wash it off to get gold that they sell.
The evictions followed an order by the Energy and Mineral Development ministry permanent secretary Stephen Isabalija, stopping the illegal mining on grounds of environmental degradation, rising crime and the need to restore order for a regulated business.
MPs from Mubende District led by Mr Michael Bukenya, wrote to President Museveni on June 16, 2017 to ask the government to give the miners more time, but the President replied that "those artisanal miners who invaded where the investor had excavations must straight away get out".
Only miners operating away from where the investor had stationed were eligible to be granted more time, Mr Museveni observed.
MP Bukenya said it was surprising that security forces acted swiftly against the miners after government officials frustrated their attempts to obtain licences for the mines.
"I smell a rat in this whole process. If their (ministry officials') intention is to register them, where will they find them after the eviction?" he said.
The gold business has been thriving in the area, with one gramme costing upward of Shs130,000 on the local market in Mubende.
Rights groups condemned the excessive use of force during the rushed eviction exercise.
Mr Francis Jjuuko, one of the affected artisanal miners, said the mines have been supporting thousands of people now suddenly rendered jobless.
"We formed the groups as they told us and our leaders tried to apply for the licence several times, but were denied a chance," he added.