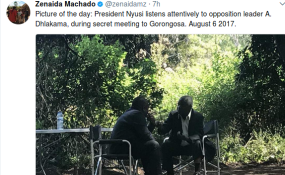 Photo: Zenaida Machado/Twitter
Maputo — Mozambican President, Filipe Nyusi, on Saturday met Afonso Dhlakama, leader of Renamo, the main opposition party in the country.
Dhlakama has not been seen in public since he went into hiding at the end of 2015. It is widely believed that he is currently living in a Renamo military base in Gorongosa.
A press release from the President's office says that the meeting took place in Gorongosa, in central province of Sofala.
"The two leaders discussed and agreed on the next steps of peace process, which they hope will be completed by the end of the year", reads the document.
The document adds "they agreed that they would continue their dialogue and closely monitor the work of the two committees, with a view to a new meeting soon to prepare the final steps".
The meeting between the Mozambican President and the leader of Renamo comes at a time when two committees set up earlier this year to deal with issues of decentralization and military affairs are still working to reach consensus.
Those groups had reached consensus on various questions, including the agenda for their work, and the mechanism to monitor and verify the current truce.
The key Renamo demand on decentralization is that provincial governors should be elected rather than appointed by the President. This principle seems to be widely accepted, but it will need a constitutional amendment, and that in turn can only be passed with a two thirds majority in the Mozambican parliament, the Assembly of the Republic. To achieve the two thirds, the parliamentary groups of the ruling Frelimo Party and of Renamo must agree on the text of the amendment.