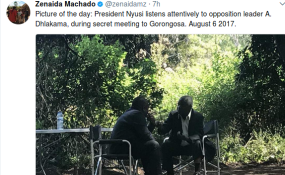 Photo: Zenaida Machado/Twitter
Inchope — Mozambican President, Filipe Nyusi, on Saturday declared that there is no need for a special treatment for Afonso Dhlakama, leader of Renamo, the main opposition party in the country.
Nyusi was answering a question on whether the government would make special provisions for Dhlakama and his armed men to be counted for the 4th population and housing currently under way across the country. The census began on 1st August and will finish on 15 August.
Dhlakama is currently living in a Renamo military base in Gorongosa district, in the central province of Sofala. He has not been seen in public since he went into hiding at the end of 2015.
Nyusi explained that the population census should not be politicized. "I don't know if a special treatment is needed for the leader of Renamo. He is a citizen. He will be counted wherever he is. When the census takers arrive in his place and meet him he will be counted", "explained Nyusi.
He was speaking at a press conference at the administrative post of Inchope, Gondola district, at the end of his 3-day working visit to the central province of Manica.
"Therefore, he doesn't need a special treatment. Do not politicize the process. The census is taking place across the country. There have never been such problems. Do not look for trouble, "he added.
Nyusi said that "the government would only intervene should there be any access problems to the area where he (Dhlakama) and other citizens are living, either due to lack of transport or access routes, in order to facilitate the census takers to reach there. But there is no problem so far".
As for the population and housing census itself, Nyusi said that preliminary evaluation of the first three days shows that there have been few problems here and there, but nothing serious.
"Let's all work for the census to take place and we will ask you to raise awareness of the population, because we need it", urged the president.
According to the National Statistics Institute (INE), the full census, including all stages has been budgeted at 79 million US dollars and involves about 120,000 people.
The World Bank has allocated 25 million dollars, whilst the Mozambican government has provided 10 million dollars. Other contributors are Sweden, Italy, and Indonesia.
The World Bank also donated 131 vehicles, 750 motorcycles and 10 thousand bicycles to the INE which will be distributed throughout all 11 Mozambican provinces.
Since independence, Mozambique has carried out three population censuses - in 1980, 1997 and 2007. Based on projections from the 2007 census, the INE estimates the current population is 26.4 million. The country is still overwhelmingly rural, with 17.9 million people living in the countryside, and 8.5 million living in urban areas.