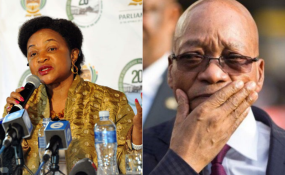 Photo: allafrica.com
At least 50 of the ANC's 249 MPs need to vote with the opposition to remove President Jacob Zuma from office on Tuesday.
That is if all opposition MPs also support the motion of no confidence in him.
Zuma has survived seven previous votes of no confidence.
Opposition leaders have said that 60 ANC MPs will support the motion. On Friday, ANC Chief Whip Jackson Mthembu rubbished these claims.
The Constitution allows a motion of no confidence in the president. If it receives the support of the majority of the National Assembly, the president and his whole Cabinet have to resign.
Parliament's rules set out the procedure:
A member may propose a motion of no confidence in the president in terms of Section 102 of the Constitution;
The Speaker must give preference to this motion, and must discuss it with the leader of government business - currently Deputy President Cyril Ramaphosa - and the chief whip of the majority party;
After consultations, and when the Speaker is satisfied that the motion complies with the rules, it must be scheduled within a reasonable time to be debated and voted on in the National Assembly.
Neither Parliament's rules, nor the Constitution, stipulate that the vote on the motion should be done with a secret ballot. The Constitution only states that a secret ballot must be used when the president is elected.
Impeachment
The Constitution, in Section 89, makes provision for the removal of the president. Although the word is not used in the Constitution, the process is commonly known as impeachment.
This is a more difficult process than the motion of no confidence, as it requires a two-thirds majority in the National Assembly to succeed. This means that currently, 116 ANC MPs would have to support it.
According to the Constitution, the National Assembly may only remove the president on the grounds of a serious violation of the Constitution or the law, serious misconduct, or inability to perform the functions of office.
The National Assembly has not yet established a procedure to remove a president in terms of section 89. In 2016, the rules committee discussed proposals including:
Submitting and debating the motion;
If the motion is adopted, it will be referred to a committee to investigate the matters raised against the president;
The committee must report back to the National Assembly with a recommendation.
Democratic Alliance leader Mmusi Maimane unsuccessfully tried to institute proceedings of this nature in 2015 and 2016.
Source: News24