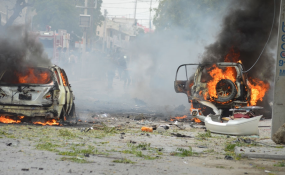 Photo: Abdirizak Mohamud Tuuryare
Somali militant group Alshabaab has released a video purporting to show the execution of a captured Kenyan soldier.
In the video the soldier identified as Leonard Maingi gives his final message to his family and Kenya government.
He is then ordered to sit down and a masked Alshabaab executioner then shoots him on his head from behind before the video comes to an end.
The video by Al Kataib Media is titled "The Bitter Truth".
Maingi is among the Kenyan soldiers captured by Alshabaab in the 2016 El Adde attack.
At least 150 Kenyan soldiers were killed in the attack the highest death toll for the East African country's military.
Alshabaab had seemingly opened channels to negotiate the release of the soldiers but Kenya government failed to bow to their demands leading to the execution of Maingi.
It is believed four more Kenyan soldiers are been held by Alshabaab.