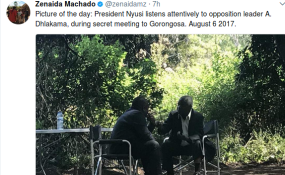 Photo: Zenaida Machado/Twitter
Maputo — The European Union (EU) delegation in Mozambique and the US government congratulate the Mozambican President, Filipe Nyusi, and Renamo leader Afonso Dhlakama for their meeting held on Sunday, which they view as an important step for building mutual confidence and lasting peace.
In a press release received by AIM this Monday "The EU congratulates the leaders and encourages both parties to work towards an agreement by the end of the year so that the elections in 2018 and 2019 can take place in a climate of trust and peace".
"The EU continues to stand ready to support the Mozambican people and the peace process", adds the document.
The United States Government also congratulates the two leaders. "This meeting represents another significant step in their joint efforts to achieve a lasting peace that will benefit the security and prosperity of the people of the Republic of Mozambique".
"As a member of the International Contact Group, the United States welcomes the two leaders' commitment to the dialogue process and remains steadfast in our support for their efforts", says the US government.
Dhlakama has not been seen in public since he went into hiding at the end of 2015. It is widely believed that he is currently living in a Renamo military base in Gorongosa.
A press release from the President's office issued on Sunday says that the meeting between the two leaders took place in Gorongosa, in central province of Sofala.
The two leaders discussed and agreed on the next steps of peace process, which they "hope will be completed by the end of the year".
The document explains that "they agreed that they would continue their dialogue and closely monitor the work of the two committees, with a view to a new meeting soon to prepare the final steps".
The meeting between Nyusi and Dhlakama comes at a time when two committees set up earlier this year to deal with issues of decentralization and military affairs are still working to reach consensus.
The key Renamo demand on decentralization is that provincial governors should be elected rather than appointed by the President.