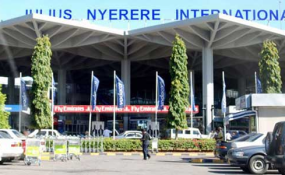 Photo: The Citizen
By Deogratius Kamagi
Dar es Salaam — Immigration department at the Julius Nyerere International Airport (JNIA) is facing shortage of manpower leading to some delays on passenger clearances.
According to international standards, one person is supposed to be cleared within 45 minutes but at JNIA the process takes up to three hours.
This was said on Tuesday in the city by the acting director general of Tanzania Airports Authority (TAA) Mr Mtengela Hanga, during the visit by three deputy ministers to inspect operations at the country's main air gateway.
The three deputies who visited the facility are Mr Ramo Makani from ministry of Natural Resources and Tourism, Mr Hamad Masauni from Home Affairs ministry and Mr Edwin Ngonyani from ministry of Works, Transport and Communication.
According to Mr Hanga, the airport was supposed to have 50 migration staffs per shift, but they are 30, denoting a shortage of 20 people.
He said in a bid to arrest the challenge, some officers have to forfeit their off time, to assisting in dealing with increased number of arrivals.
"Again we are running shortage of convey belts, visa machines and counters for airline operators," he said.
The JNIA was built in 1984 with the capacity to serve 1.5 million passengers annually but due to renovation and increase of businesses activities, the capacity has dropped to 1 million people per year.
"However, number of passengers using this airport has increased to 2.5 million annually hence long queues especially at the arrival point," he said.
On their part, the three deputy ministers promised that the government would work on the challenges to ensure the increased productivity from services offered at the airport.