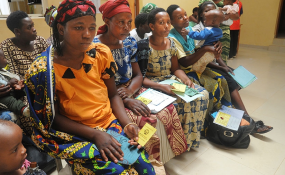 Photo: New Times
analysis
By Marie Grace Dushimimana
During the campaigns for the just-concluded elections, President-elect Paul Kagame rallied Rwandans to vote for him, reiterating that his government leaves no one behind and that would continue to be a priority for him should he remain at the helm in the next seven years.
And, last week, Rwandans, who had throughout the election season turned up in huge numbers for Kagame's rallies, re-elected him overwhelmingly, with 98.63 per cent of the votes cast, according to the preliminary results released by the National Electoral Commission on Saturday.
So what did the RPF-Inkotanyi candidate mean when he said his government will never leave anyone behind?
Over the years, the Kagame government has injected billions of Francs into social protection programmes targeting the most vulnerable members of society, with various ministries and departments continuously rolling out and broadening social safety net schemes.
From Vision 2020 Umurenge Programme (VUP) and Girinka Munyarwanda (or One-Cow-Per-Poor-Family) to Mutuelle de Sante, a community-based health insurance scheme, education and special programmes for the disabled and women, the government has impacted thousands of citizens at the lower end of the pyramid, with view to help them break the poverty cycle and transforming their livelihoods for good.
Ladislas Ngendahimana, the spokesperson for Ministry of Local Government and Social Affairs, which oversees a substantial part of social protection programmes, said it was the duty of government to not leave anyone behind on the development journey.
"We were unfortunate to have a government that killed its own people (during the 1994 Genocide against the Tutsi, which was defeated by Kagame's liberation forces, the Rwanda Patriotic Army, the military wing of the Rwanda Patriotic Front)," he said. "Today it is the duty of the pro-people government to roll out programmes that directly impact the lives of those who were left behind by past governments and those significantly affected by our tragic history."
He added that some of these tailor-made pro-poor schemes are meant to help address socio-economic consequences of the Genocide. Over a million Rwandans were killed during the Genocide.
"The history of these programmes is primarily rooted in the challenges brought about by the Genocide," he said.
The government's main avenue for supporting the most disadvantaged Genocide survivors is the Fund for Neediest Survivors of Genocide in Rwanda (FARG). For nearly 20 years, the government has been channeling some 6 per cent of the domestic revenues of the National Budget into the Fund.
The Fund covers three key components, namely; shelter; health (including treating aliments that resulted from the Genocide and disbursement of monthly direct support in the form of cash to the most vulnerable survivors; and education scholarships for children).
Flagship programmes
The law establishing FARG was published in the Official Gazette on January 22, 1998. Figures show that between 2010 and 2017, up to 41,003 secondary school students received school tuition and scholastic materials.
Up to 15,536 university students have been receiving tuition and monthly living allowances over the period, while 24,743 people were also supported to start income-generating activities over the same period.
Over the years, while the number of FARG-sponsored students in secondary schools has been going down, the number of beneficiaries in tertiary institutions has been increasing, Theophile Ruberangeyo, the Director General of FARG, said.
But the numbers are beginning to come down in both varsities and secondary school, he added. "In 2011, we were supporting 57,000 secondary school students but in January the number will come down to 582," he added.
In total, 109,615 students have completed secondary school, 27,310 completed University, whereas 1840 completed vocational and short -term professional courses (from 2010-2017).
Meanwhile, 5,691 housing units have been constructed for Genocide survivors, while 2,382 units belonging to the neediest Genocide survivors have been renovated. Some 23,830 people, including 1,642 Incike (elderly persons who lost all their children) receive monthly direct support allowances (inkunga yingoboka).
Up to 133 incikes live in shared homes in different parts of the country, with FARG taking full care of their daily needs. "These are people with absolutely no one else to help them, we hired house helps for them and cater for all their necessities," said Ruberangeyo.
These elderly people, he said, are given Rwf30, 000 every month, and an additional Rwf5, 000 in pocket money monthly. But the Fund also extends support to other vulnerable elderly survivors who stay with their relatives. Most of these (about 23,000), he said, receive a monthly allowance of Rwf7,500, as do students who do not have a permanent address during the holidays.
Through the One-Dollar campaign, spearheaded by members of the Diaspora, a hostel was put up in Gasabo District as part of a solution to the problem of survivor students who did not have where to go during school holidays. Today, the complex is home to scores of such youths.
Breaking the cycle of poverty
Ruberangeyo also said that there are hospitalised survivors who receive Rwf50, 000 or Rwf100,000 monthly depending on the need and particularity of their cases.
The Reserve Forces were contracted to undertake renovation works on vulnerable survivors' houses, Ruberangeyo said. "They are doing a great job because they are largely driven by patriotism."
Asked whether these programmes are having a tangible impact, he said: "a massive one."
"There is nothing more gratifying that supporting a young person to attend and complete education and then go on to build their future," added the Fund chief. "Or helping vulnerable people with serious health conditions such as cancer, diabetes, liver and kidney diseases or serious fractures suffered during the Genocide go abroad and get treated."
He added: "By empowering young people, people who had no hope, and giving them a chance to have a shot at a decent life, you are helping break the cycle of poverty in disadvantaged households."
Pierrine Mukazuzi, who attended both her secondary and tertiary education on FARG sponsorship, said, thanks to the government's support, she now leads a decent life. Mukazuzi works with a local bank. "I can't be thankful enough; I don't know how my life could have turned out to be without the education support I received from FARG."
Another flagship government social protection programme is the Vision 2020 Umurenge Programme (VUP). The programme started in 2008 and comprises three components: Direct Support, under which extremely poor households without labour capacity receive cash grants (normally, these are elderly people with disability); Public Works, which provides community work opportunities for extremely poor households with labour capacity; and Financial Services, which serve as a complementary service to social protection programmes and provides investment loans to poor households.
VUP direct support component is active in all the 416 sectors of the country, according to officials.
A total of 94,471 households have so far benefited from direct support; of these, 64,377 are female. So far, the government has disbursed Rwf10,9 billion in direct support to disadvantaged households. The least that a household gets is Rwf12,000 a month, while the maximum is 21,000 (depending to the number household members).
Officials say that public works support is today active in 271 sectors with some 128,756 households getting jobs under the arrangement for which they have been paid some Rwf10 billion in total. The idea is to ensure that vulnerable people who are able to work find what to do to sustain themselves and their families. They are paid after every 15 days. The wage for one day is Rwf1,000.
On financial services, the government has hitherto spent Rwf8 billion on 25,647 people, including 13,235 women. They received loans to finance their income-generating activities. In total, 14,614 loans, including 12,776 individual loans, where as the others were given out in the form of group or cooperative loans.
Beneficiaries of VUP programme don't present collateral to access a loan because they do not have property. They only sign agreements with Local Administrative Entities Development Agency (LODA) showing how they will pay back at a 2 per cent interest rate.
"VUP has helped many people beat the poverty trap," said Ngendahimana. "Many now are able to pay for their family's medical insurance; they have bought livestock and are basically running their families; that's the whole idea behind these social safety nets programmes."
Saverina Mukazuzi, 39, a resident of Kinyinya Sector in Gasabo District, says that VUP enabled her to access a loan and she has since created employment for herself while she has also taken her three children to school.
Girinka
Girinka is one of the most-acclaimed government programmes. Initiated by President Kagame in 2006, the scheme seeks to lift ordinary Rwandan households out of poverty. The cows have helped improve nutrition of beneficiary households, boost agricultural production through fertiliser and open a revenue-stream for poor families through sale of milk and other dairy products.
One of the beneficiaries, Bonifirida Mukarusengo, from Rulindo District, said: "My kids used to look as if they were malnourished but they are now healthy because of drinking milk."
She said that she now harvests a banana bunch that weighs about 50 kilogrammes as a result of cow dung fertiliser, up from an average of 15kg a bunch previously.
To date, more than 350,000 cows have been given out to vulnerable households under the Girinka drive. Some 52,940 cows are expected to be distributed before the end of the year.
The programme is such that beneficiaries are encouraged to pass on their first calves to their needy neighbours, creating a bigger impact.
Pascal Nyabinwa, an officer in charge of Girinka at the Ministry of Agriculture and Animal Husbandry (MINAGRI), said the programme will continue to be scaled up to ensure that more Rwandans benefit.
According to information from MINAGRI, Girinka has contributed about 30 per cent toward poverty reduction efforts in the country.
There are also specific programmes meant for persons living with disabilities.
To help address the peculiar challenges that affected this segment of society, the government established the National Council for People with Disability (NCPD) as the main coordinating agency for interventions meant for these citizens.
According to Emmanuel Ndayisaba, the Executive Secretary of NCPD, there are 446,453 people with disability in Rwanda. The majority of them are women (225,303). Up to 220,130 of them have a walking disability.
Disability not inability
"People with disability have never been left behind in this past seven-year government programme," Ngendahimana said, in reference to Kagame's 2010-2017 term of office.
We have a representative of people living with disability both the national parliament and among the representatives of Rwanda at the East African Legislative Assembly (EALA), he said.
He also said that every year districts are given financial allocation to promote cultural, entertainment and sports activities involving people with disabilities.
"PWDs are in business, we have cooperatives and the government disburses Rwf2 million annually to every district to be given to cooperatives for PWD," he said.
Some Rwf469 million was also spent from 2010-2017 via Business Development Fund and National Employment Programme to support PWDs in business, he added.
There are also schools for PWDs that government sponsors in Gahini and Kibeho. "In the future, the plan is to have professional teachers with skills to teach people living with disability across the board - at primary, secondary and tertiary level," he added.
"In Rwanda, we are proving that disability is not inability," he said.
He added that Rwanda Demobilisation and Reintegration Commission extends the same support to the FDLR casualities who return home as their Rwanda Defence Force's counterparts. FDLR is a DR Congo-based militia comprised mainly of remnants of the Interahamwe militiamen and the defunct Rwanda Armed Forces (FAR) that executed the Genocide against the Tutsi.
"When the President says that no one is or will be left behind, these are some of the things he's talking about," he said.
Ngendahimana also pointed to continued pro-women interventions that promote girls and women in education, business, leadership, among others. The Constitution provides that women shall constitute at least 30 per cent of all leadership positions both in public and private entities.
'Quick, spot-on impact'
Mutuelle de Sante scheme is one of the most popular policies initiated by the Kagame government. Today, some 84 per cent of Rwandans are subscribers of this community-based health insurance.
The government pays premiums for Rwandans classified under category one of the Ubudehe social stratification. Officials say 15 per cent of Rwandans fall under this category.
Those in the second category are given jobs under the public works scheme and they use this money to pay for medical cover.
"We have recently rolled out new programmes like Shisha Kibondo, which seeks to prevent malnutrition and stunting among children under five," said Ngendahimana. "Government is helping vulnerable women (under category one of Ubudehe) from the time they are pregnant up to when their kids are five years by providing them with milk and highly nutritious food".
"The idea is to complement the other development programmes and bring about inclusion and sustainable development," he explained. "We are seeing quick, spot-on impact".
Officials largely credit these social safety net programmes with significant drops in poverty levels over the years. Poverty in the country reduced to 39.1 per cent in 2014 down from 56 per cent in 2006.