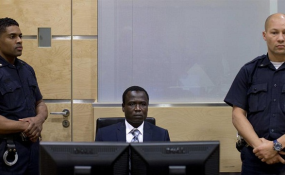 Photo: The Independent
By Bill Oketch
Lira — Prosecutors at the International Criminal Court (ICC) have endorsed 121 witnesses to pin Dominic Ongwen, a former child soldier turned rebel commander accused of war crimes and crimes against humanity in northern Uganda.
On January 16, the ICC prosecutors presented their case against Ongwen whose trial commenced on December 6, 2016, and is on-going at the seat of the court in The Hague, Netherlands.
The trial is one of the most significant in ICC's 15-year history, and raises difficult questions of responsibility and blame.
Ongwen, 41, the alleged commander of the Sinia Brigade under the Lord's Resistance Army (LRA) rebels, is charged with 70 counts of war crimes, crimes against humanity and gender-related crimes.
He is accused of masterminding atrocities in which hundreds of lives were lost in Lukodi in Gulu District, Odek in Omoro District, Pajule in then Kitgum District, and Abok in Oyam District, all in northern Uganda.
Mr Dahirou Sant-Anna, the ICC International Cooperation Advisor, told a meeting in Lira Town last Monday that seven of the witnesses were Ongwen's forced wives while others were drawn from contextual victims, expert witnesses, the Uganda People's Defence Forces (UPDF) personnel and former LRA fighters.
"In the prosecution case, the court will be relying on 121 witnesses. From those, 74 will be testifying live - they will appear before the judges to give their evidence. Twenty four [witnesses] having testified so far, we intend to call 21 more witnesses before the end of 2017, which will amount to a total of 45 witnesses for this whole year," he said.
"Next year, 29 more witnesses will be called to testify, and by May or June 2018, prosecution case is expected to be concluded. Thereafter, the defence will have to present its evidence or call its witnesses," Mr Sant-Anna added.
Ongwen, who was abducted by the LRA at a tender age of 10, is the first former child soldier to face trial at the institution and the first defendant to be both alleged perpetrator and victim of the same crimes.
If convicted, he faces up to 30 years in prison, or a life sentence could be imposed.
But Ongwen told court last December that he was "one of the people against whom the LRA committed atrocities" and shouldn't be on trial.
"In the name of God, I deny all these charges... . I am not the LRA... .It is the LRA who abducted people in northern Uganda. It is the LRA who killed people," Ongwen said, speaking through an interpreter.
Mr Charles Owiny Abak, a retired catechist on Monday begged the ICC to forgive Ongwen since he is a victim of the same crimes he allegedly committed.
"Go back and forgive Ongwen, let him come back and stay among us here," he told the ICC officials at Gracious Palace Hotel in Lira Town.
But Ms Fatou Bensouda, who is leading the ICC prosecution team, told the court at an earlier hearing that past victimisation as a child might be a mitigating factor in sentencing but was not a defence of Ongwen's alleged decision to "wholeheartedly" embrace violence.
Led by Joseph Kony, a rebel leader who claims spiritual inspiration, the LRA has waged war across five countries in East and Central Africa for more than two decades.
The group has been blamed for the deaths of about 100,000 people and the abduction of 60,000 children. It relied on the abduction of largely defenceless villagers and refugees, including children, to provide labour and combatants. Girls were forced into sexual and domestic slavery while boys were forced to take up arms.
The presidential adviser in Lango, Mr Levi Okodi Macpio, said the trial of Ongwen is "significant on justice for LRA atrocities".
"Justice comes because there has been injustice... injustice has been done and there is no way we can hide, and you (ICC) have come timely to help us correct it," he said.
"What is the sense in attacking the locals or the people in our villages when your actual intention is to overthrow a government? What is the sense? Would you rather attack innocent people in the villages than the government itself which is in place?" he asked.