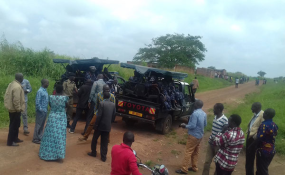 Photo: Cissy Makumbi/Daily Monitor
By Josephine Namuloki
Members of Parliament from the Acholi sub-region have warned Lands minister Betty Amongi not to tamper with their land.
This came after reports emerged last Saturday about a possible government takeover of land in Amuru district, which could be handed over to the Madhvani group of companies for sugarcane plantations.
The MPs, during a recent news conference, asked Amongi, who still belongs to the opposition party, the Uganda People's Congress (UPC), to back off Acholi land.
"Let Amongi not dare tamper with Acholi land. That is cheap popularity and arrogance. She is justifying marriage between UPC and NRM. She wants to appease the appointing authority but we are ready to stop her before their first [child] is born," Kilak South MP Gilbert Olanya said.
The MPs that vented their anger included: Anthony Akol from Kilak North, Lucy Akello from Amuru, Beatrice Anywar from Kitgum municipality, Lucy Achiro from Aruu North, and Lamwo Woman representative Molly Lanyero, among others.
"If she is talking about the use of force, we are ready to welcome her to show us what type of force she is coming with," Olanya said.
The MPs said the Acholi cannot tolerate Amongi's intimidation and vowed to deal with her should she dare cross to Acholi.
According to the MPs, Amongi ordered for the UPDF officers' deployment in that area. "As I talk, UPDF officers are already there. The police officers who were there have been withdrawn and replaced by the UPDF... ," Olanya said.
The MPs have unanimously agreed to move to the region and camp there until the matter is resolved amicably.