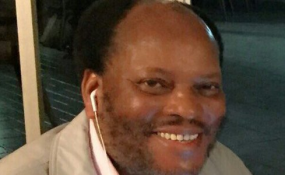 Photo: The Citizen
By Moses Mashalla
Hundreds, the mighty and the lowly alike, are expected to throng the Ngurdoto Mountain Lodge today for the burial of the five star hotel owner, Faustine Meleo Mrema.
The late business tycoon, who owned more tourist class outfits in Arusha than any other local investor, died in a South Africa hospital on July 29 from an undisclosed illness.
The chairman of the funeral committee, Mr Vincent Laswai, told reporters here yesterday that former President Jakaya Kikwete is among the dignitaries expected at the burial.
"So many mourners have already arrived from different places for the funeral of our beloved hotelier," he said, noting that up to 600 of them would be accommodated at the lodge.
A tentative programme issued yesterday indicated that last respects would be paid at his residence in the leafy suburb of Arusha from 9am to 1:30pm. Thereafter, the body will be transported to Ngurdoto for a special service, followed by the burial at the family farm adjacent to the hotel.
Sources added that some of those expected come from outside and within the country and they include leaders, business partners, friends and relatives, especially from Arusha and Kilimanjaro regions. Mrema's hospitality outfits in and outside Arusha include the Ngurdoto Lodge, Impala Hotel, Naura Spring Hotel and Impala Kilimanjaro Hotel in Moshi.
He runs a shuttle bus service between Arusha and Nairobi, several guest houses in Arusha. He also owns several commercial buildings in the heart of the town, some believed to be under construction.
Some of the late tycoon's friends and relatives are apparently worried on the fate of the investments, saying Mrema's death came at a time of declining business in the hotel sector.
Most affected is the Ngurdoto Mountain Lodge which used to host major conferences and events sponsored by the government as well as the East African Community (EAC) summits of heads of state.
The lodge, located 27 kilometres east of Arusha, has within its precints a separate Tanzania Convention Centre which has largely remained idle for lack of major events since it was opened a few years ago.
The towering Naura Springs at the intersection of Afrika ya Mashariki Road and Moshi highway has also been hard hit after the government stopped holding conferences in privately-owned outfits.
The hotel, with huge function halls, was opened in 2008 during the Leon Sullivan Summit in Arusha. It was by then the only facility in Tanzania with a Helipad where a helicopter can land.