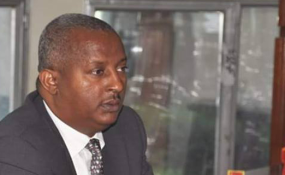 Photo: Addis Fortune
The Federal Police Commission has arrested Alemayehu Gujo, state minister of Finance & Economic Cooperation, for an alleged corruption case on the same day the Parliament revoked his impunity. All members of Parliament, in an urgent meeting held last Friday, voted for the revocation of his impunity.
The revocation of his privilege of being protected from any legal suit was proposed by Getachew Ambaye, the attorney general.
Alemayehu, who remained abstinent during the voting against his immunity, has been accused of awarding three contracts worth 26.2 million dollars to two companies that did not take part in a bidding process and receiving 500,000 Br in bribery.
"There is nothing which I regret," Alemayehu said during the meeting. "I believe that there is justice in the country, the main impunity is justice."
His immunity was given by article 54(6) of the Constitution which stipulates that no member of the Parliament shall be prosecuted or arrested without the permission of the Parliament.
His arrest has pushed the total number of detained government officials, brokers and business people accused of corruption to 50.