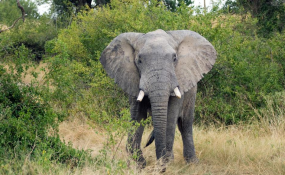 Photo: RFI
By Loness Gwazanga
Blantyre — African Parks, an organization that takes direct responsibility for the rehabilitation and long-term management of protected areas says only two elephants died during the just ended translocation of 520 elephants into various national parks.
African Parks Country Director, Patricio Ndadzera said this on Tuesday in Blantyre at a briefing aimed at announcing completion of the multimillion project.
He described it as a success as such exercises normally cost many lives of both wildlife animals as well as human beings.
"Since the project's inception last year, only two elephants died not because of negligence but due to the long distances that the elephants travelled. Some big elephants would fall on smaller ones on the way which made them have difficulties in breathing thereby losing their lives. So as the largest elephant translocation in history, this is a great success," said Ndadzera.
He said the exercise has seen Nkhotakota Game Reserve and Nyika National Park being filled with elephants that had no breathing space due to overpopulation at Majete and Liwonde National Park.
"100 years ago, the world had 10 million elephants which have now been reduced to 450,000 because of Ivory that fetches high market value. Currently, Africa is facing environmental bankruptcy and such exercise is needed if we are to keep the number growing and boost tourism," said Ndadzera.
Ndadzera also said the project has balanced up the three ecosystems whereby Nkhotakota has been restocked with 486 elephants and Nyika National Park which has been filled with additional 34.
In his remarks, Director of National Parks and Wildlife, Brighton Kumchedwa attributed the translocation exercise to strong cordial relationship between government and African Parks.
"As government, we are satisfied with the partnership because African Parks is implementing government policies of repopulating depleted parks. We need such kind of cooperation from various partners to move other key species and make our wildlife reserves secure from poaching," said Kumchedwa.