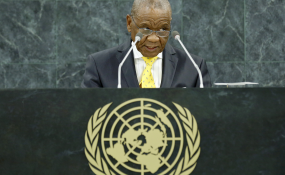 Photo: Sarah Fretwell/UN
By Tefo Tefo
THE fate of 23 Lesotho Defence Force (LDF) officers facing mutiny charges hangs in the balance after the Court Martial was postponed indefinitely on Tuesday with no clarity on what will happen next.
The 23 soldiers stand accused of plotting to topple the LDF command and were arrested between May and June 2015. The officers were all subsequently released from the Maseru Maximum Security Prison where they had been detained and placed under "open arrest".
The LDF has claimed the alleged mutiny plot was masterminded by former army commander, Lt-Gen Maaparankoe Mahao who was shot dead by his colleagues who had come to arrest him for the suspected mutiny in Mokema on 25 June 2015.
However, a Southern African Development Community (SADC) Commission of Inquiry into the incidents surrounding the former army chief's killing concluded that the LDF's case against the alleged mutineers was "highly suspect" and recommended that they be granted amnesty by the government.
This was echoed by Lesotho's development partners including the United States and European Union, which called on Maseru to heed the recommendation to grant amnesty to the accused mutineers.
The Americans had stipulated the release of the detained soldiers as one of the benchmarks for renewal of the African Growth and Opportunity Act (AGOA) free trade facility and a developmental aid grant from the Millennium Challenge Corporation (MCC).
The government halted the court martial last week with Communications Minister telling a local publication they were yet to decide on the next step.
However, Attorney Tumisang Mosotho, who is one of the lawyers representing the 23 officers, told the Lesotho Times this week that they only received a message that the case would not proceed on Sunday -two days before the scheduled date of the Court Martial.
"We were only informed that the case will not proceed," Atty Mosotho said, adding: "We were told that we would be informed as to when the case would proceed."
Efforts to contact Chief Molapo yesterday were fruitless as his phones were unreachable.