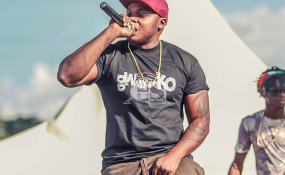 Photo: Khaligraph Jones/Instagram
By Chad Kitundu
Rapper Khaligraph Jones is not a happy man. He has accused Independent Electoral and Boundaries Commission officials as racists after getting confused by his new light looks.
The Toa Tint rapper had in May caused a stir and left tongues wagging after appearing on TV with a lighter skin. At the time, the rapper attributed his light skin "to drinking clean water and facial scrubs."
Khaligraph, who is famously known for his lyrical prowess, took to Twitter to claim his new skin tone caused confusion as he tried to cast his vote.
The IEBC guys here at the polling station are saying that the person on my ID ain ' t me. So rude of them.
The IEBC officials here are being racist. Me being white in person and black on my ID shouldn ' t bring issues. #ElectionsKE2017