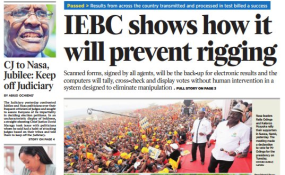 Photo: Nation Media Group/Twitter
By Patrick Lang'at
Twelve more constituencies have delivered their presidential results declaration forms making it 42 that have so far submitted their data, the electoral agency has said.
The Independent Electoral and Boundaries Commission (IEBC) also said that it had expanded the capacity of the remaining constituencies to deliver faster.
"We aim to make the receipt and verification of the forms 34B transparent and effective. All the eight presidential candidates' agents are here to validate them," said IEBC Commissioner Roselyne Akombe in the agency's first update at 5.30 am.
WINNER
She insisted: "The results as captured in forms 34B is final. And the role of the commission is to authenticate the origin, tally and announce the winner of the presidential election."
The 12 that have brought in their Forms 34B are Mwingi West, Nakuru Town west, Kasarani, Magarini, Kuresoi South, Rangwe, Mukurweini, Budalang'i, Ugenya, Kipipiri, and Bahati.
The countries where Kenyans voted and which have sent their Forms 34B are Uganda, Burundi, Tanzania and South Africa.
Some of the 30 constituencies that had submitted their forms 34B by 11pm last night were Funyula, Narok East, Chesumei, Emurua Dikirr, Kajiado Central, Suna West, Khwisero, Maara, Jomvu, Kitui West, Lari, Ndia, Tetu, Bureti, Soin Sigowet, Nambale.
The IEBC had earlier said that it will project on a screen at Bomas the results from constituencies whose Forms 34Bs have been verified, but had not done so by 6am.
With 39, 757 of the 40, 8883 polling stations having reported their results, President Kenyatta still maintains the lead with 8, 030, 150 votes (54,27 per cent), followed by his closest challenger Raila Odinga who at 6.45 am had 6,634, 331 votes (44,84 per cent).
This represents 97 per cent of the polling stations in Kenya.
"We understand the sensitivity of the transmission of the presidential results and the importance of finalising this process as soon as possible," said Dr Akombe.
She said that the commission had made it easier for the returning officers who had not submitted their Forms 34B to do so more quickly.
"We call for patience as we finalise this process. We reiterate our commitment to a free, fair and credible results management system," said Dr Akombe.