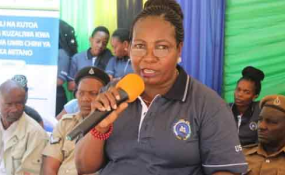 Photo: The Citizen
By Deogratius Kamagi
The Registration, Insolvency and Trusteeship Agency (RITA) has opened a special desk for applicants of Higher Education Students' Loans Board (HESLB) for the academic year 2017/18 to verify their birth certificates.
The exercise aims at easing the verification process for applicants in so that they can meet the HESLB deadline which is set for 6th September this year.
Speaking at a press conference on Wednesday, RITA acting Chief Executive Officer Ms Emmy Hudson said the exercise is part of requirements that all applicants should have their certificates approved before moving on with application procedures.
"The verification can be done at District Commissioners (DCs) offices across the country and at RITA main offices in Dar es Salaam," she said at a joint press conference which was also attended by HESLB executive director Mr Abdu-Razaq Badru.
On his part, Mr Badru asked the applicants to ensure they submit all required documents, to avoid the unnecessary inconveniences and proper allocation of loans.