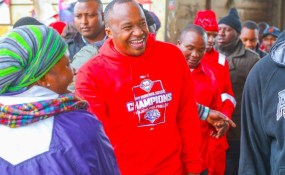 Photo: Jaguar/Instagram
Popular musician cum politician Charles Njagua has scooped Starehe Constituency in Nairobi after the election on Tuesday.
Njagua, famous for his alias Jaguar from Jubilee party bagged 52,132 compared to ODM candidate Steve Mbogo's 32,357 and prominent activist Boniface Mwangi's 13,413.
Jaguar becomes the first musician to enter parliament in Kenya and fourth in East Africa. Tanzania has two, Joseph Haule(Prof J) and Joseph Mbilinyi (Sugu) both from opposition Chadema, while Uganda has one in Robert Kyagulanyi Ssentamu also known as Bobi Wine.
Mwangi who contested on Ukweli Party ticket conceded defeat and congratulated Jaguar. "The people of Starehe have spoken and l respect their decision," Mwangi wrote on his Facebook page on Wednesday.
He wished the people in the Nairobi constituency well.
Mwangi thanked his campaign team, financial contributors and voters for trusting him and hoping for a better Kenya.
"We ran an honest, innovative and revolutionary campaign; we did our best. l am humbled by the love and support l got from all of you," he said.