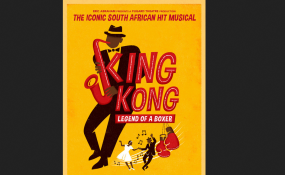 Photo: King Kong
analysis
It was billed as an "all-African jazz opera"; it was a unique collaboration between black and white, South Africa and the UK. After its opening at the Wits theatre in 1959 it was seen locally by 200,000 people including a young Nelson Mandela. "King Kong" featured some of the greatest and most influential South African talents including composer Todd Matshikiza as well as musicians and singers like Jonas Gwangwa, Hugh Masekela, Caiphus Semenya, Kippie Moeketsi, Miriam Makeba and Letta Mbulu. Does the reimagining live up to the hype of the original? By MARIANNE THAMM.
For many of us who were too young to catch the now iconic King Kong - All African Jazz Opera way back in the late 1950s, all we have had is the recorded music performed by the original cast, a soundtrack that has endured for over half a century and that has embedded itself in the South African musical tapestry.
But the opera has, until now, been preserved in separate shards of amber. There is the soundtrack, then a classic photograph here of a young Miriam Makeba as the shebeen queen Joyce, another there of the large original cast (there were 72 performers) rehearsing.
There are...