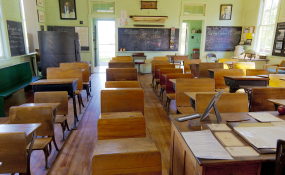 Photo: Lisa Baird/Pixabay
By Albertina Nakale
Windhoek — The majority of people living with disabilities continue to face stigma in Namibia, as evident from a whopping 87 percent of children with disabilities, between the ages of 0 - 4 years, having never attended early childhood development (ECD) programmes.
Statistics show at national level more persons with disabilities aged 5 years and above had left school (49,991), followed by those who never attended school (27,070) and the lowest number being those who attended pre-primary (877).
These statistics were revealed by Education, Arts and Culture Minister Katrina Hanse-Himarwa last Friday during her address on the state of the education sector in Namibia.
These statistics come at a time when the National Federation of People with Disabilities in Namibia (NFPDN) has called on the Ministry of Education, Arts and Culture to investigate why the majority of learners living with disabilities, especially the hearing-impaired, fail to pass formal education and proceed to university.
NFPDN chairperson Daniel Trum last week called on the Ministry of Education, Arts and Culture to probe the status quo of hearing-impaired learners who failed to pass Grade 10 and proceed to Grade 12.
"Deaf learners are not able to pass Grade 10 and 12 to access tertiary education. I don't think there is anyone of them who passed Grade 10 and proceeded to Grade 12 to date. If they are a lot, maybe only about five learners," Trum noted.
Further, statistics show about 21,000 children in Namibia between the age of 6 and 19 years have a disability, representing 3.3 percent of the population in that age group.
Most persons with disabilities are in the age group 10-24 years.
The proportion of persons with disabilities aged 5 years and above that never attended school was higher in rural areas (82.1 percent) than in urban areas (17.9 percent).
To address the needs of children with disabilities in Namibia, the Ministry of Education, Arts and Culture with the support of UNICEF conducted a rapid analysis aimed at documenting the implementation of inclusive education in Namibia.
The main purpose of this analysis was to identify the needs and barriers that may hinder the full participation of children with disabilities and children with special education needs.
The minister said some of the major challenges identified include the existence of high levels of stigma and discrimination against children with disabilities.
She said disability is viewed as a curse and children with disabilities are still hidden from society in most cases.
Other challenges include lack of disability, knowledge and practical skills amongst teachers, school principals and hostel staff to teach children with disabilities in inclusive settings, resulting in feelings of frustration, stress, being overwhelmed, wanting to give up, and of being unsupported.
Others are lack of disability-friendly infrastructure in and around schools, classrooms and in hostels and lack of supporting technology.
Corporal punishment and bullying of children with disabilities, and a lack of knowledge and awareness relating to differing disabilities, especially those relating to invisible disabilities such as learning and psychosocial disabilities, have also been identified.
In an attempt to respond to the issues raised, she said the ministry would develop strategies to address the lack of capacity amongst teachers, school principals and educators.
"Through the integrated school health programme the ministry will also partner with the Ministry of Health and Social Services to address the early identification, assessment and interventions of disabilities amongst children and learners," she noted.
Other measures she mentioned include advocacy interventions - therefore the ministry calls on parents and community members to support interventions to explain disability.
The minister called upon the media fraternity to support advocating the rights of children with disabilities to quality education, healthcare and social services, and to sensitive communities about the dangers of stigma and discrimination towards learners with disabilities and other special educational needs.