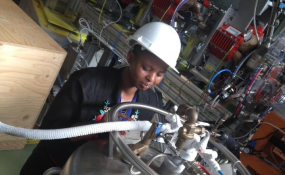 Photo: Senamile Masango/Facebook
press release
President Jacob Zuma has extended his hearty congratulations to Ms Senamile Masango who has become the first African woman to conduct the first African-led experiment at the European Organisation for Nuclear Research (CERN) laboratory in Switzerland.
Ms Masango was part of a group of student researchers from the University of the Western Cape (UWC) in South Africa studying the isotope selenium-70 to better understand how its nuclei shape relates to its energy levels.
"We congratulate this inspirational young African woman on her excellent achievement and hope that she will serve as beacon for all other young African women to follow in her footsteps and achieve their goals and dreams," said President Zuma.
Issued by: The Presidency