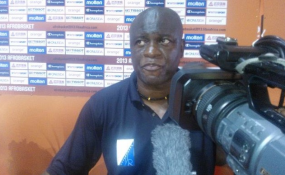 Photo: Daily Trust
By Joshua Odeyemi
Nigeria Basketball Federation (NBBF) has announced a United States of America -based Nigerian Alex Nwora as the new head coach of the country's basketball team, D'Tigers.
This was made known on Wednesday by the President of the Nigeria Basketball Federation, Engineer Musa Kida ahead of the Senior Men's national team's exercise expected to commence on Friday, 12th, 2017.
In a post by the NBBF on its Official Facebook account, the body said Nwora will take over immediately from William Voight who led the team to its first glory at the 2015 edition of Afrobasket.
The statement said Nwosu will lead D'Tigers to their 2017 Men Afrobasket tournament title defence.
According to Kida, the decision to appoint Nwora who guided Cape Verde to the 2013 Afrobasket where they defeated D'Tigers by 79 points to 76 was borne out of the desire to give qualified Nigerians the opportunity of making history with the national teams.
"We started this project with the D'Tigress with the appointment of Sam Vincent, Mfon Udoka, Peter Ahmedu and Okworogun Ochuko. There is no point giving out national team jobs to expatriates when we have Nigerians all over the world who are duly qualified to get the job done."
Nwora will be assisted by Kwara Falcons head coach, Aderemi Adewunmi and Gombe Bulls Abdulrahman Mohammed who have both guided their teams to the top of the Atlantic and Savannah Conferences of the NBBF organized basketball league.
The statement said the list of invited players to the national team will be announced soon.