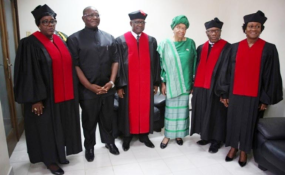 Photo: Liberian Observer
document
SPECIAL STATEMENT BY PRESIDENT ELLEN JOHNSON SIRLEAF ON THE IMPEACHMENT PROCEEDINGS
I am concerned about recent attempts by some members of the House of Representatives to initiate impeachment proceedings against majority members of the Supreme Court because of judicial decisions made by the Supreme Court. This move is clearly in violation of Article 73 of the Constitution of Liberia.
The Executive Branch of Government is not prepared and will not support any unconstitutional maneuverings from any of the institutions of Government. At this time, all branches should be working coordinately to ensure the peaceful elections and the smooth transfer of power. In our system of Government, the Legislature is empowered to enact laws and the Supreme Court is mandated and authorized to interpret the laws. The process in the House of Representatives tends to undermine the peace, threaten the elections process currently underway, and create confusion and chaos in our fledgling democracy.
I call on the members of the House of Representatives to abandon this course of action for the sake of peace and stability in Liberia. The Executive Branch of Government will not support any action, which tends to undermine the Constitution and reverse the gains this country has made.
May God bless the works of our hands and save the Republic.
Ellen Johnson Sirleaf
PRESIDENT