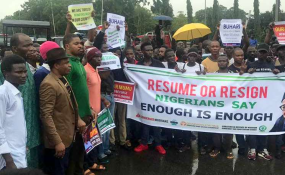 Photo: Premium Times
By Isiaka Wakili
The Presidency says those behind the calls for President Muhammadu Buhari's resignation are corrupt Nigerians who want to derail the ongoing anti-graft war.
The Senior Special Assistant to the President on Media and Publicity, Malam Garba Shehu, said this in Abuja on Thursday while addressing a pro-Buhari protesters, members of the Centre for Civil Society and Justice.
Shehu commended the group for being orderly in their demonstration, urging them to shun all provocations by Buhari's administration's opponents.
"It might be taken for granted that the beneficiaries of the old order are fighting back. We have been warned that corruption will fight back. In a country where just one woman for having the opportunity to serve as minister has N47.2bn and $487.5m of public resources in cash and property traced to her by the Economic and Financial Crimes Commission, you don't expect the beneficiaries of that order to allow the Buhari administration some peace.
"They want to distract us. But what the Acting President wants to assure patriotic citizens is that the government will not bend. As far the President is concerned, he has done the needful by handing the reins of authority to the Vice President. Since the law of the country does not give a time limit for the President's return, it cannot be imposed by a saber-rattling group or individual."
"By divine intervention, Muhammadu Buhari unexpectedly got elected with the ostensible mandate of reversing national decline and securing its future. He got into the Villa through democratic victory at election. Anybody desiring to replace him, whether you are wrestler, a hairdresser or a musician, you should go through that process. In a democracy, threats don't work."
The convener of the group, Goodluck Obi, said they had "absolute faith and trust in Buhari's administration.