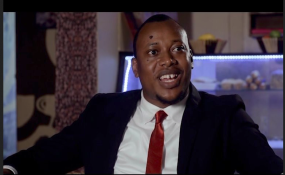 Photo: Arnold Muhereza/Facebook
interview
By Prisca Baike
Arnold Muhereza joined The Hostel series two seasons ago as an extra, but his resilience and dedication got him a lead role in the third edition as Tito.
He has also featured in several other projects such as Coffee Shop as well as commercials like Juzza and Towakana, among others. Quick Talk bumped into him at the National theatre last week.
How do you get all these juicy gigs that many actors die for?
[Smiles] Anyone can do the things I've been doing but I must say I am lucky and I do my work well, and naturally. And I have my God. In everything I do, God comes first. I am a born-again Christian.
Talking of God, when were you last in church?
I didn't go this Sunday [Pauses for a moment]. Oh yeah. I woke up late. I went out on Saturday and on Sunday morning I was not in the right frame of mind for church. I pray from Amazing Grace Faith church.
It is not a built church but we convene at Imperial Royale [hotel]. My apostle is Anthony Muhumuza. To me, God comes first, always.
Most born-agains don't take beer. What about you?
I take beer. The thing is this. When I take beer, I don't change. The question is: when you take beer, are you going to still be sane?
If you are not going to hurt anyone or do something bad, I think beer is okay. You can never know I have taken beer because I am not a guy who gets high.
Really?
I have a limit. I take around two or three, four at most; and then after that, it is only water. I am not a good drinker. [Speaking with emphasis] But I love the taste of the first beer.
After two bottles, I get bored and it can take me over an hour to finish my third bottle. Water is my drink.
What is your favorite local hit?
I like Sheebah's new song John Rambo. It doesn't even have a video yet but it is baaad! [read good]. Another song is Show Me by Winnie Nwagi. I am a kind of guy who likes to support new talent. The old guys have nothing new to prove.
So, which other new talent do you support apart from those two?
I like these guys called Voltage. These guys are shooting video after video. Top-quality videos at that. I specifically like Winnie Nwagi because of how she has grown and improved musically.
At first, people only thought of her as this nice-looking chic but she has proved that she can sing. That has challenged everyone who underestimated her.
Talking about food, what is your favorite dish?
Rice, posho and meat. Maybe you can put beans. Me I am local. I eat local all the time because I grew up on local food. Junk gets to me. I wouldn't eat junk two days in a row. I would die. I want my soup, posho and rice. I also love chapatti.
So, can you cook at least one of these things you enjoy eating?
I am a very good cook. I am a very good cook. I can cook so many things. I grew up among girls. I have an older sister and we grew up with a cousin who was a girl.
Our house help was a lady and of course my mom. As you can see, I was surrounded by women; so, there was no way I couldn't learn how to cook. I can cook anything except matooke because I don't eat it [bragging] but I make very nice chapatti. I can assure you I cook better than you.
Hahaha!
Yeah... ate nga sisiriiza! [Without burning the food].
I see, the women really did a good job.
I have learnt so many things from growing up among ladies. They taught me how to be clean and tidy. I am neat and organized. [Speaking with emphasis] It is not an OCD [obsessive compulsive disorder] but you could take it that close.
Oh my! Close to OCD is really tidy!
Yeah, I just cannot be comfortable when things around me are not in order. I like being clean, neat and organized. And I like doing things for myself. I wouldn't want to wait for my girlfriend to do everything for me.
Now that you mention her, who is she?
[Bursting into laughter] What do you mean who is she? You haven't even asked whether I have one.
I know you do...
Why do people assume? Actually you would be so surprised. I am only starting to see somebody. We are soon making a year but before then I was totally single for about five years and I was okay. But everyone kept thinking I was seeing someone.
Ok, please spill the beans...
To be honest she is not comfortable with being in the public. She is a corporate girl and she prefers not to be in the limelight. She is very understanding and she knows my work. She is actually very supportive
If you had all the resources, what would your dream house look like?
[Speaking slowly with joy and emphasis] I want my house to be a white house! Full white! Apart from the roof and doors of course. I would prefer it by the lake. I enjoy the breeze.
I love the beach but I don't go there often. Do you know why? Because I want to miss it so that when I finally go there, the experience is fresh and exciting.
Which schools did you go to?
I was in Shimoni demonstration school. Apparently we have no school anymore. I was at St Mary's SS Kitende for four years. I then crossed to Makerere College School for my A-level before joining Uganda Christian University for a degree in library and information science.