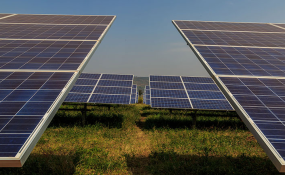 Photo: The New Times
By Hamisu Muhammad
Dangote Group has signed a Memoranda of Understanding (MoU) with Kano State Government for the proposed 100 megawatts Dangote-Black Rhino Solar Power Plant.
The formal agreement for the project, which is to be sited at Zakirai, in Gabasawa Local Government Area of the state, took place yesterday, at the office of Secretary to the State Government (SSG), Alhaji Usman Alhaji, in Kano.
Africa's richest man, Aliko Dangote said the MoU was yet another milestone in the evolving partnership between Dangote Group and Government of Kano State in their determination to bring about the much needed improvement in the economy of the country.
He described the situation of decadence in the power sector, which resulted in decline of the status of Kano, a once vibrant industrial and commercial city in the past three decades, as sad.
Represented by the group's Executive Director, Engr. Mansur Ahmed, Aliko said it was incumbent, and necessary for the benefit of the people of Kano and the entire nation to restore the economy's vibrancy.
He decried the power challenges which have continued to militate against industrialisation and economic development in the state, saying "As we all know Kano's pre-eminent status as a great entrepot and centre of commerce in the Sub-Saharan region for almost two centuries has sadly declined.
Signing the MoU on behalf of the state government, the SSG, Alhaji Usman Alhaji, indicated that the momentous event showcased the sacrifice of Aliko Dangote, a son of the soil, for the people of the ancient City of Kano, and indeed, the nation in its struggle to move its economy forward.
He said prior to the signing ceremony, his office had performed another strategic ceremony, the distribution of vehicles to various security agents to enhance security of the state.