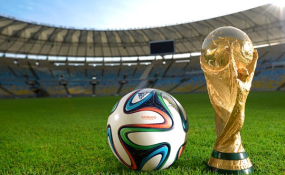 Photo: Daily Monitor
By Duro Ikhazuagbe
Super Eagles recorded a marginal movement in the latest FIFA ranking released thursday.
The three-time African champions stepped up just one place from 39th to 38th spot in global ranking. It was also the same slight one spot movement from 7th to 6th in the African ranking. Eagles amassed 716.28 points to stay maintain the stand in the current ranking.
Interestingly, Nigeria's next foes in the World Cup 2018 qualifiers, the Indomitable Lions of Cameroon are just one spot above Eagles in the 5th spot in Africa and 35th in world grading.
The double-header World Cup clashes between both countries in Uyo and Yaounde on September 1 and September 4 are going to play significant roles in both the ranking for next month to be released on September 14 as well as their march to grabbing the lone ticket available in the Group B pairing.
The Pharaohs of Egypt maintained their stronghold on African football as they are ranked 25th in the world and the best in the continent. Congo DR is next in the world ranking at 28th while Senegal third in Africa is ranked at 31 globally. Tunisia is fourth in Africa and 34th in the world. The biggest climbers in the current ranking in Africa are the Namibians who moved 20 steps up to place 136th.
At the global level, new Paris Saint Germain striker Neymar and his Samba Boys from Brazil have knocked Germany down from the top of the current FIFA rankings.
World champions Germany dropped to second despite winning the Confederations Cup last month after some rolling historical results were devalued.
Lionel Messi's Argentina are in third and modest Switzerland, with a 100 per cent record in World Cup qualifiers, are fourth, which is higher than they have been since 1994.
Poland, who boasts Bayern Munich's Robert Lewandowski among their ranks, are at a historic high of fifth having dropped just two points in their own qualifiers as European champions Portugal dropped two places to fifth.
The CONCACAF Gold Cup was responsible for some major movement further down the table, with defeated finalists Jamaica (57th, up 19) accruing the most points over the month.