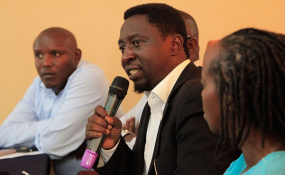 Photo: Sam Ngendahimana/New Times
By Nasra Bishumba
The Democratic Green Party of Rwanda may have lost in this year's presidential elections but the party's president, Frank Habineza, says that a decision has already been made that he will participate in the next presidential polls come 2024.
Habineza emerged third with 0.48 percent in last week's elections. He was beaten by Independent candidate Philippe Mpayimana with 0.73 per cent votes and RPF-Inkotanyi's Paul Kagame who was the winner with a sweeping landslide of 98.79 per cent.
In an exclusive interview with The New Times, this week Habineza said that though the party hadn't performed well in the just concluded presidential elections, this was not the time to give up.
"We are obviously disappointed by the results but that's how democracy works. There is a loser and there is a winner. We have to pull ourselves together and begin preparing for the 2024 presidential election. We are going to be in this for the long haul. We are not going to be threatened by the challenges. We know that it's not easy but we are not giving up," he said.
Habineza added that his party will immediately start preparing for parliamentary elections slated for August next year.
"This year's results will not discourage our party from our dream to one day lead the country. In some areas, we attracted huge crowds at our rallies. We were surprised by the support that we, for instance, got in Musanze and in Kigali and it was an indication that people were interested in our manifesto and we are going to go back to them and ask them to continue standing with us," he said.
Habineza said that his party was going to capitalise on the experience gained from this past campaign period to consolidate the support that they received all over the country.
"This was our first time to be on the ballot paper and wherever we went, many people knew about our party and ideology and we made a mark in terms of democracy and we are not going to be forgotten soon," he said.
Habineza once again congratulated President Kagame upon his win and requested him to consider his party's manifesto since it was aimed at consolidating the gains that his government has already delivered.
About 6.8 million Rwandans participated in the vote.