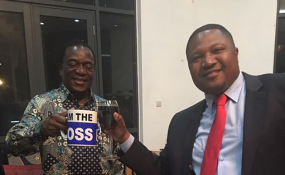 Photo: New Zimbabwe
Zanu PF activist and businessman Energy Mutodi has been arrested in a development related to the ruling party's divisions over President Robert Mugabe's succession.
Mutodi, a close Vice President Emmerson Mnangagwa, earlier this week warned that the country risked a coup if Mugabe fails to properly manage his succession.
In an article published on social media, Mutodi also claimed that the military plays a key role in the rigging of the country's elections.
Harare attorney Beatrice Mtetwa confirmed his arrest.
"I can confirm that he (Mutodi) has been charged with undermining authority of the President in contravention of s33 of the Criminal code and causing disaffection among Police Force or Defence Force in contravention of Section 33 of the Criminal Code," she said.
"These arise from a posting he made on Facebook on the 6th August titled 'Why choosing a successor is a difficult job'.
"The charge was initially treason based on an adulteration of the posting by the media whose articles give the impression that Mutodi gave an interview to them when they simply gave the Facebook post their own interpretation and their own headlines."
Mutodi is linked to the so-called Lacoste Zanu PF faction which reportedly backs Mnangagwa to take over from the now 93-year-old Mugabe.
The rival G40 group backs defence minister Sydney Sekeramayi and enjoys the support of Mugabe's influential wife Grace and co-vice president Phelekezela Mphoko.
The latter group is also thought to have the backing of president Mugabe who will seek another five-year term in office next year.