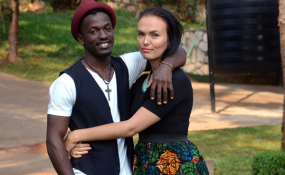 Photo: The Daily Monitor
By Esther Oluka
When Linda Rui posted a photograph of herself wearing an African print red dress on Instagram back in 2015, it attracted numerous likes and comments including compliments from followers.
And one day as Simon Kato was perusing different Instagram accounts, he came across Rui's where she had posted different pictures but commented on one about how she looked beautiful in African Fabric.
"I found it amazing that this white girl was dressed beautifully in African fabric," he says.
Rui responded to the comment saying, "thank you, Africa is like my second home, that is why I love African prints."
However, she says she would not have responded if he had comment ed with words such as "hey babe," "sexy," "shawty," like most men used to do.
Getting close
Soon the two started chatting frequently on Facebook and eventually became friends but discussing mostly fashion. They talked about a number of things ranging from style, trends and photography before finally exchanging contacts.
"One time as we were having a conversation, I mentioned that my favourite ice cream flavour was coconut and suprisingly, she said it was her favourite too. I embarced that opportunity to ask her out for ice cream at Acacia Mall and she accepted," Kato says.
Since that ice cream date in November 2016, the couple did not look back and on August 6 they got engaged.
The proposal
While the couple was having lunch during a holiday outing recently in Fort Portal in western Uganda, Kato said he had ordered a special meal for Rui. So, the waiter brought another plate with a cover to hide its contents.
"Simon told me to open up the plate and in so doing, there was no food but rather a small pink towel with a beautiful shinny ring placed over it. I was shocked and stopped thinking for about a minute," Rui says, adding, "As I was still figuring what was going on, Simon got down on one knee and asked me to be his wife. I got a little teary before saying yes."
The couple is now busy with marriage and family plans.
What they love about each other
Regarding why she zeroed down to the idea of settling down with Kato, Rui says he is a special kind of man.
"He is always supporting me in everything I do including my work. When I am around him, I feel safe and secure," she says.
Since the relationship is still in its initial stages, Rui says they hardly fight. however, when they have disaggreements, they deal with the issue at hand by having a discussion.
Meanwhile, Kato says he loves Rui because of her beauty, humility and strong caring heart.
"In addition, she is very understanding and ambitious, attributes I thought were great wife material," he says, adding, "But also, I fell in love with her because she has always been by my side throughout the good and bad times. She is perfect."
Asked whether there are any annoying habits each wished the other could change, they both said there is nothing irritating so far. "It is quite too early," they say. Probably, they will get to discover each other's weaknesses as time passes.
Culture differences
Rui says the biggest culture shock she has encountered so far is the language barrier. "In Uganda, when people come together for functions they speak their local languages. Therefore, I end up by myself," she says.
On the other hand, it is a little easier for Kato since Rui's family members speak English, a language he can understand. However, Kato says he has also noticed a few cultural differences between them.
"Here, we serve a lot of food on our plates but in her culture, they give out small portions. I have realised that in her country, they value a small number of children; one, two or three yet here the bigger the better, sometimes over five plus children."
The stereotyping
Like in many other interracial relatiohsips, there are usually discussions generated of whether the affiliation is legit or in this particular case, if the man is not after acquiring benefits such as citizenship or money.
"I do not really focus on what people say. Personality is what matters," Rui says.
Meanwhile, Kato says he is the type of person who believes in having an actual relationship rather than one based on materialism.
About the couple
Linda Rui. Rui is a 27 years old woman from Norway. She went to a chef school there and graduated as a pastry chef. But at the moment, she is working as a business coach at Forever Living, a health company. She is also a part time model.
Simon Kato. He is 26 years old, born and raised in Uganda. Kato does quite a couple of things for a living including photography, modelling, graphics designing, animation, among other things.