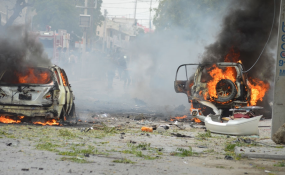 Photo: Abdirizak Mohamud Tuuryare
Somali President Mohamed Abdullahi Mohamed Farmaajo authorized the August 10th strike that killed a high level Alshabaab
The strike was coordinated by the US and targeted an Alshabaab base near Shashweyne on the outskirt of Benadir region.
"This individual was part of an al-Shabaab terrorist network responsible for planning and executing several bombings and assassinations in Mogadishu that have killed innocent Somali citizens" the statement said.
"In the past two weeks, our brave Somali security forces have successfully disrupted multiple al-Shabaab tax stations and removed a key al-Shabaab governor, Ali Mohamed Hussein" the statement said.
"The President and his administration remain resolute in their commitment to eradicate al-Shabaab's ability to conduct senseless acts of violence and crimes against the people of Somalia, its East African neighbors, and the international community" it added.
The US Department of Defence separately stated that it hit Alshabaab militants with "two Kinetic airstrikes" on the 10th of August adding that it will continue to coordinate with Somalia and other partners to rout the Alqaeda linked militant group