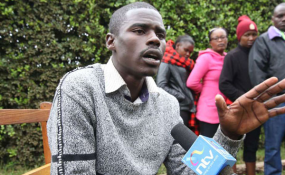 Photo: Phoebe Okall/Daily Nation
By David Muchui
A 23-year-old independent candidate is highly likely to be the next Igembe South MP after preliminary results indicate he is leading.
Mr John Paul Mwirigi, a Bachelor of Education student at Mt Kenya University, is ahead with 19,366 votes against Jubilee's Joseph Miriti who has 15,977 votes.
VICTORY
Throughout the day, his supporters thronged Maua town to celebrate the possibility of his victory.
Speaking to Nation, Mr Mwirigi said he expressed interest in politics while he was a Form Three student at Kirindine Day Secondary School.
"I had a dream where I was tabling a motion in Parliament while I was in Form three.
"That is when I started asking my fellow students to start campaigning for me since I would need their votes in 2017.
"I have held leadership positions in school and in my neighbourhood," Mr Mwirigi said.
AGENDA
During his campaigns, he used to talk to residents in their homesteads.
The sixth born in a family of eight said said his priorities are supporting agribusiness, promoting entrepreneurship and nurturing talents.
"Since I come from a humble background, I understand the issues that affect the residents. My key agenda will be transforming the lives of the people."
Other candidates in the race include Martin Kubai (MCC), former deputy governor Raphael Muriungi (DP) and Mithika Mwenda (PNU).