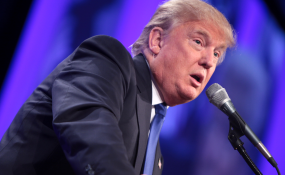 Photo: Gage Skidmore
By David Monda
As Kenyans evaluate the results of the election of August 8, 2017, not many people are thinking about the immediate and long term consequences of President Trump's immigration Bill proposed in Washington last week.
The Bill has as much to do with domestic US politics as it does with regulating immigration from abroad.
The sponsors of the Bill speak volumes about its content. Senators Tom Cotton (Arkansas) and David Perdue (Georgia) both come from "Red States" that are a key support base for the president.
Given the string of scandals related to firing of key staff members in his administration, the president's dealings with Russia, the tensions with North Korea, this Bill is a perfect antidote to show the president is trying to pass significant legislation.
It is also a play on generating support for congress members from the Republican Party in swing states who are up for re-election in 2018.
The Bill plays well for Trump's long term effort at a run for re-election in 2020 especially to his base.
BILL
How does Kenya factor into this immigration Bill? These domestic dynamics play a big part in shaping US immigration policy towards Kenya.
The Bill moves to scrap the green card through which thousands of Kenyans have immigrated to the US.
For starters, the Bill will look to favour immigrant worker skills over family ties.
According to the Urban Institute, about seven in 10 current immigrants come to the US based on family ties.
Well under two in 10 come based on their work skills. Trump is looking to change this drastically.
If the Bill is passed, just because a Kenyan is a US citizen or legal permanent resident, they will not automatically be able to bring their family to the US.
IMMIGRATION
The Bill looks to cut immigration by half over the next 10 years from a current high of one million down to half a million. This will make it harder for Kenyans to go to the US.
In regards to the thousands of refugees from South Sudan, Somalia, Ethiopia, Eritrea, Rwanda, Burundi and the Democratic Republic of Congo that came to Nairobi to transit to the US once their refugee status is approved, this Bill will make it an even harder task.
This is because the Trump Bill looks to cap refugee admissions at 50,000 annually.
This figure represents total refugee populations from all over the world. Africa's share of this number will get even smaller.
Kenya will find itself having to shoulder the burden of even more refugees fleeing their countries in the hope they will go the US but finding themselves stuck in Kenya for the long term with no means of livelihood.
The biggest challenge with the Bill is the point system it will revert to. Like New Zealand, Australia and Canada, a point system will be devised based on education, age, English proficiency and entrepreneurship.
REALISTIC OPTION
Family ties will not play a part in this new dispensation. This creates even more challenges for Kenyans trying to immigrate to the US as a global pool of applicants will be trying to compete for very few places.
Where does this leave Kenya? It speaks to the reality that Kenyans need to start thinking of Kenya as the land of opportunity because going to America will not be a realistic option.
The Bill is not law yet, but like the world saw on November 8, 2016 with Trump's election, history has a weird way of making the impossible possible.
As the Psalmist said many moons ago in Proverbs 90:12 "Teach us to number our days that we may attain a heart of wisdom".
I trust that in the days after this contentious election, Kenyans will number each day wisely as they work to make Kenya that great land of opportunity for all.
David Monda works in the Political Science Department at Guttman College, City University of New York