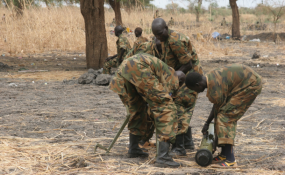 Photo: Arne Doornebal/ RNW
Nyala — The Vice President of the Republic, Hassabou Abdul Rahman, said the most recent political developments concluded by the National Dialogue and the ensuring National Dialogue Document, require boosting peace and stability and security for the sake of the national security
Hassabou who is the head of the committee entrusted to help collect unlicensed fire arms and unregistered cars and trucks in Darfur, told the native leaders in a meeting held here, that one of the dire consequences of war and conflict was the spread of firearms. He said now firearms have become the greatest threat to peace can stability in the region.
He stressed that it was the government responsibility to collect those unlicensed arms from individuals in the region without having to pay a compensation.
He said on the other hand the cars and trucks that were sneaked into the Sudan and which are unlicensed impact the national economic and the social security in the region.
He said the campaign to collect arms and the process of collecting arms have been brought by the need to impose the state authority and the rule of law and to help cement peace and stability in the area.
He said the decision of the committee he heads is that all firearms would be collected from private individuals and be stored and would not come unless for official reasons.
He said the armed forces have been mandated to fully operate for collecting fire arms in the region and that they have the mandate to arrest and to revoke diplomatic immunities in case an body tries to resist the collection.
He said he committee is also enshrined with power to close down the crossing point from neighboring state in the fight to collect arms.
He said the native administration could help by revealing the names and information about those who smuggle, hide or sells firearms and drugs.
He said the aim is to fight the legacy of war and conflicts and their impact on the community.
He said the native administration could also enlighten and educate the population on the need to hand over their weapons and to isolate t5he criminals and that all peace activities should be documented.
Hassabou has meanwhile said the native administration should be empowered and enabled to carry out their traditional role in the communities.
He said even the registered firearms in Darfur should be handed over to the police unity. The vice president has meanwhile revealed that all stolen and smuggled car would be confiscated.
He said special court would be set up to handle cases related to terrorism, possession of firearms and, use and purchase of drugs.