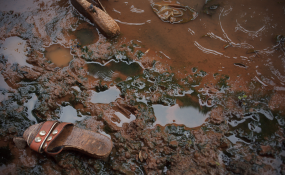 Photo: Jarkko Mikkonen/Red Cross
Thirteen people died of cholera in West and Central Darfur this week. In Red Sea state, a local hospital recorded five new cholera cases, but discharged others who were still suffering from the rapidly spreading disease.
The current death toll in in the towns of Zalingei, Um Tajok in West Darfur, and Boronga in South Darfur (Kass locality) has run-up to 26 people this week.
The coordinator of the camps for displaced people in Central Darfur, El Shafie Abdallah, told Radio Dabanga about the death of seven people. Five of them were from Hamidiya camp and the others from Hasahisa camp.
He told Radio Dabanga that the seven patients had been transferred from Hamidiya to the medical isolation centre at Zalingei hospital on Thursday.
Six people died of cholera and 18 others were infected at Um Tajok village, near Murnei in West Darfur on Wednesday. A sheikh from the camp reported that 18 villagers were transferred to the medical isolation centre at Murnei.
Meanwhile a medical team arrived in Boronga village in Kass, South Darfur, after thirteen people died of cholera and 45 others were infected. "The team's arrival has led to a decrease in the spread of the infections and a reduction in the mortality rate. No new deaths have been reported in the village as of Wednesday."
The sheikh from the area told Radio Dabanga that the medical team started treatment services with the available medicines, which led to the recovery of a number of patients.
"30 infected patients have been discharged to cover up cholera in the hospital," a journalist reported
Red Sea
On Thursday, the hospital in Tokar, Red Sea, recorded five new cholera cases, bringing the total number of patients in the isolation centre to seven. Most of the cases are concentrated in the outskirts of Tokar and in villages south of Tokar.
In an interview with Radio Dabanga, journalist Osman Hashim said that the administration of the hospital has attempted to cover up cases of cholera to the public.
"On Wednesday, the hospital administration discharged 30 cases before they had recovered, in preparation for receiving a delegation from the Ministry of Health in the state."
Hashim reported that residents of Tokar have voluntarily undertaken efforts to reduce the spread of the disease.
New report
Health experts of the Sudanese Communist Party in Khartoum have considered the government's policies not effective to respond to the epidemic, as a result of the health care approach that the Federal Health Ministry and its state counterparts adopted.
The experts released a statement yesterday, claiming that Sudan has become "a scene of the spread of various epidemics, in the light of the continuation of the medicine policy; where the country suffers from scarcity, disappearance and lack of life-saving medicines".
The report said that more than 26,000 cases of cholera have been reported in the capital city and states, with a 5.6% mortality rate in 15 of the states.