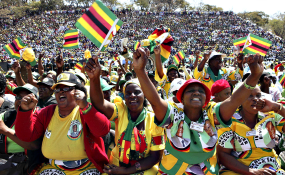 Photo: The Herald
By Collen Murahwa
All is set for the Heroes and Defence Forces commemorations on Monday and Tuesday respectively, with 25 buses having been lined up to ferry people to the National Heroes Acre, Harare Metropolitan Provincial Minister Miriam Chikukwa said yesterday. Zimbabweans celebrate the sacrifices made by gallant sons and daughters of the country who fought for the liberation of Zimbabwe on Monday and Tuesday in different parts of the country.
Thousands of people are expected to throng the National Heroes Acre for the Heroes Day commemoration to be presided over by President Mugabe, who is also the Commander-in-Chief of the Zimbabwe Defence Forces.
President Mugabe will also preside at the Defence Forces Day at the National Sports Stadium on Tuesday.
"As Harare, we are ready, we have 25 buses allocated to ferry people on Monday and on Tuesday," said Minister Chikukwa. "People will be picked up from the usual pick up points at 6 'O' clock in the morning. If there are any problems, those who are going to allocate the buses will have to solve the problems in time. What we want is for everyone to get an opportunity to attend the Heroes and Defence forces celebrations."
Minister Chikukwa appealed to those who have their own vehicles and going for the celebrations to help ferry their colleagues.
"Those with their own cars should assist ferry others and those who can access fuel, let's help those with cars so that everyone gets an opportunity to attend the events," she said.
Minister Chikukwa clarified the position with regards to Harare Metropolitan Provincial Heroes Commemorations.
"We are blessed as Harare province because we celebrate twice, we start at the National Heroes Acre where we will be having our father, His Excellency Cde RG Mugabe and afterwards we start our provincial celebrations at the Provincial Heroes Acre," she said.
"Most people think that when we go to the National Heroes Acre we are done, but no, we move to the provincial Heroes Acre to commemorate our Provincial Heroes commemorations.
"Afterwards, we then take our widows and widowers for lunch and you will be advised there on the times and be rest assured food will be there."
Minister Chikukwa called upon the multitudes who will attend the celebrations to be disciplined.
"I call upon those who are going to attend these commemorations to respect the law and help the police in upholding the law, but in the process, let's be united as a people," she said.
"To those who are going to be protected, respect the police and the police should also respect the people; let's talk to each other with respect. We want to maintain peace in Harare as we will be commemorating (these events)."