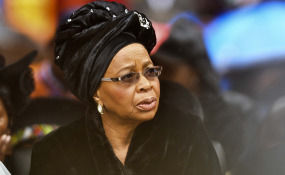 Photo: Herman Verwey/Sapa
By Kalunde Jamal and Fortune Francis
Women and children's rights advocate Graca Machel yesterday urged women and youth in Tanzania to be proactive when it comes to seeking development opportunities.
Ms Machel, the founder of the Graca Machel Trust, said this during the closing of an eight-day meeting in the city which was aimed at empowering communities to tackle development challenges.
The Graça Machel Trust is an organisation that works across the continent to drive positive change across women's and children's rights, as well as governance and leadership.
The activist has been working towards amplifying the voices of women and children in Africa; influencing governance; promoting women's contributions and leadership in the economic social and political development of Africa. The meeting in Dar es Salaam, which brought together Africa's high profile women and youth, is part of Graca Machel's movement towards supporting economic empowerment.
She said women and girls have a great contribution in their countries' development only if governments invest in them and they are encouraged to seek opportunities.
"History has shown 70 percent of women work in the informal sector, so, it's high time they set the records by working towards formalising what they do to make their contribution recognised," she said.
For her part, Ibra Holdings executive director Maida Waziri said that through supporting local initiatives and connecting key stakeholders at the regional, national and sub-national levels, the continent can catalyse action where it is needed.
During the meeting, she said the government was banking on the youth, women and people with disabilities, for 30 per cent of revenues.
"There are opportunities in the oil and gas sector, but contracts need to favour women and youth so there is an equitable distribution of resources," she said.
The head of the Strategic Enterprise Fund, Ms Eduardo Martinez, said that educating women was key in strengthening their capacity to participate in economic development.
"Women lack broad understanding of things that shape development and self-reliance," she said.